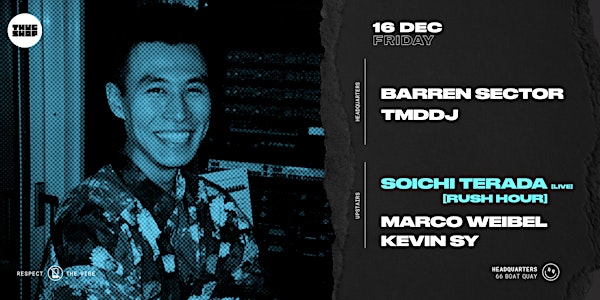 Thugshop Presents - SOICHI TERADA [LIVE]
Thugshop Presents - SOICHI TERADA [LIVE]
When and where
Location
Headquarters 66A Boat Quay Singapore, 049854 Singapore
About this event
The moment that you've been waiting for is here - it's the weekend so come let your hair down and join us for a dance as we keep the music playing. Wander upstairs where Soichi Terada will be putting on the bright, feel-good, swinging house tracks to lift your spirits as you enter the weekend!
Soichi Terada has long been a bastion of charming house music in Japan. A recent showcase of his work by Hunee - "Sounds From The Far East" - on the Rush Hour label, though, has turned a western audience on to his pleasingly naive yet emotionally reson.
With a sound that bears the subtle hallmarks of 80s and 90s New York, Terada has continually cooked up his own melodically rich slant on house, and for that reason he has always stood out. Ranging in style from personable and fun to more moody and soulful, he has a broad sound palette that is full of humour and real character. Tracks like the Larry Levan backed "Sun Shower," which he produced in 1989 for the Japanese singer Nami Shimada, are full of melody and string arrangement so never fail to connect with dancers and DJs alike. His live show will recreate these classic old tracks - as well as those from the Rush Hour compilation - in captivating fashion.
🎵
Soichi Terada
https://soundcloud.com/soichi-terada
Playing alongside Soichi Terada are Marco Weibel & Kevin Sy
A prelude of intense, melodic flavour of house and techno that will get you grooving to the latest sounds as the night fills your soul with an endless mirage of techno house beats.
🎵
Marco Weibel
https://soundcloud.com/marcoweibel
🎵
Kevin Sy
https://soundcloud.com/kevin-sy
On the decks of Headquarters, Thugshop's very own - Barren Sector & TMDDJ
Get ready as they rattle the cage of headquarters with the stomping bangers and cerebral techno all night long to have the dance floor in a frenzy.
🎵
Barren Sector
https://soundcloud.com/barrensector
🎵
TMDDJ
https://soundcloud.com/muddy/tmddj-bsl-vol1
▶ No ID, no entry.
▶ Minimum age requirement : 23+
▶ No flash photography.
▶ No illicit substances.
▶ No outside food & drinks.
▶ Strictly no smoking indoors.
▶ Please respect the vibe.
Please note that there will be no entry to the event without a valid ticket. The management reserves the right to refuse entry at its own discretion. Club rules apply. Any guest found in violation of the rules will be asked to leave the event.