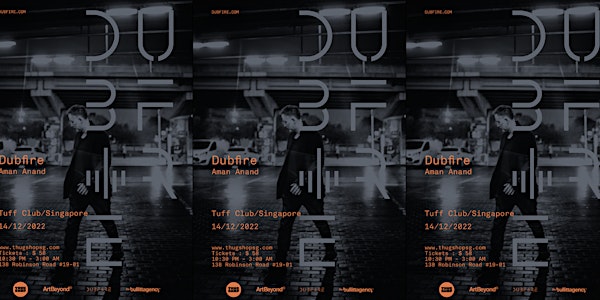 Thugshop X ArtBeyond Presents - DUBFIRE
Thugshop X ArtBeyond Presents - DUBFIRE
Date and time
Wed, 14 Dec 2022 22:30 - Thu, 15 Dec 2022 03:00 +08
Location
TUFF CLUB 138 Robinson Road ##19-01 Singapore, 068906 Singapore
About this event
Can't wait for the weekend? a hump day rave not to be missed as Dubfire takes over the purple hues of Tuff Club for a night of deep musical perfection.
From global success in the commercial domain, to equal accomplishments within the underground scene, Dubfire is an artist whose drive, talent and intuition have placed him within the top tier of electronic music artists in the world. Whether it's his involvement with Deep Dish, his solo performances at an extensive list of the world's most influential clubs and festivals, running his label SCI+TEC, or simply his exploration of audio and visual technology, Dubfire is in a class of his own and is resolute in his forward-thinking ethos.
Born in Iran and raised in the U.S. from the age of seven, Dubfire first developed his skills playing at local clubs in Washington, D.C. He was introduced to Sharam Tayebi through a childhood friend and they formed "Deep Dish:, a production and DJ duo that conquered the world of electronic music, picking up a Grammy (and previous nominations) in the process in addition to a vast array of other awards and accolades. Dubfire quickly integrated himself into the minimalistic techno scene and produced several key releases that cemented him as a true visionary and a force to be reckoned with in underground music.
Never satisfied with the status quo, Dubfire spent two years crafting a live show and his HYBRID live concept has been wowing audiences since its soft launch debut at the Amsterdam Dance Event in 2014. Described by Thump as, "unlike anything we had previously seen or heard before anywhere,"
Dubfire's story is also set to be told through a documentary, titled "Above Ground Level" chronicles his career trajectory from fleeing Iran as a youngster to becoming one of the biggest electronic music stars on the planet.
Tuff Enuff to brave a midweek dancing? Don't doubt yourself and join Dubfire for a night of epic musical journey.
🎵
Dubfire
https://soundcloud.com/dubfire
Opening for Dubfire, Thugshop's very own - Aman Anand
Making a name for himself one to watch in Asia, Aman Anand will take you seamlessly through the melodic and progressive shades of electronica to progressive house and the darker shades of techno for your fix of Wednesday night dancing.
🎵
Aman Anand
https://soundcloud.com/amananandmusic
▶ No ID, no entry.
▶ Minimum age requirement : 23+
▶ No flash photography.
▶ No illicit substances.
▶ No outside food & drinks.
▶ Strictly no smoking indoors.
▶ Please respect the vibe.
Please note that there will be no entry to the event without a valid ticket. The management reserves the right to refuse entry at its own discretion. Club rules apply. Any guest found in violation of the rules will be asked to leave the event.