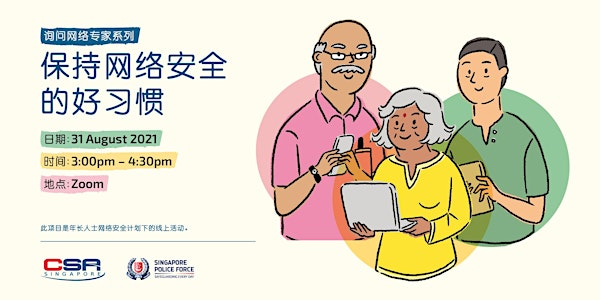 保持网络安全的好习惯 | Time of Your Life
学习如何提高自己的网络安全意识,保护您和家人的网络安全。
About this event

Important Notice
This programme/event is open to members of the National Library Board, Singapore. Please ensure you have your myLibrary ID on hand before proceeding with the registration. If you do not have a myLibrary ID, you can create one here: https://account.nlb.gov.sg/.
About the Programme/Event
随着人们越来越依赖智能手机和互联网来处理各项日常所需,网络罪犯也更有机可乘。网络罪犯干案时有哪些蛛丝马迹?您又能如何防止自己成为下一个受害者呢?
向来自新加坡网络安全局及新加坡警察部队的网络专家了解网络安全及普遍的网络诈骗类型。您也可以学习如何保护您的个人和财务信息,免受网络罪犯攻击。
视频会议此节目是新加坡网络安全局及新加坡警察部队为50岁及以上人士主办的 "询问网络专家系列"的活动之一。
#StayHomeAndLearn
About the Series
The Time Of Your Life (TOYL) programme series features informative talks, creative workshops, book clubs, and learning communities for those aged 50 and above. Seniors can expect to stay relevant with these programmes that cover a wide range of topics such as health, personal finance, technology, and the arts.

Online Programme/Event Administrative Information
This programme is conducted entirely online. You may access Zoom via the app or using a web browser
Please ensure that you enter a valid email address as you will receive an email with the link to the online programme/event near the day of the programme/event
The link of the programme should not be shared with others
Do ensure you have a strong internet connection. Using your mobile data is not recommended
The National Library Board, Singapore (NLB) reserves the right in its absolute discretion to disqualify or refuse admission to any registrant without any reason and notice