Description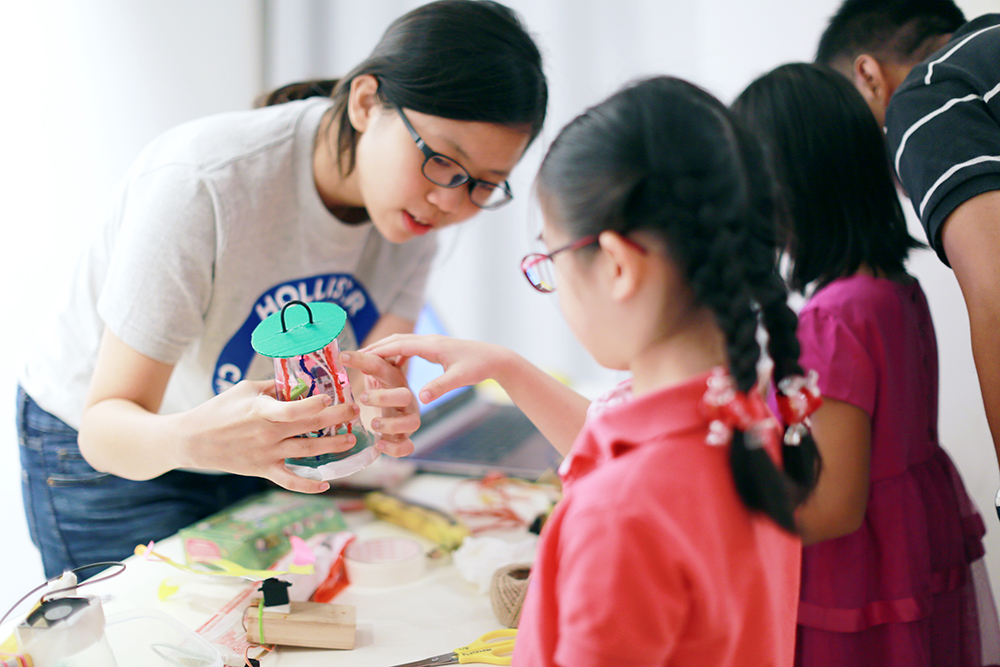 Tinker Hardware Exploration April 2017 Holiday Camps
This course aims to instill the concept that technology is a creator's tool to young curious minds. Technology is much more than the smartphones and tablets that they are used to seeing. Through fun hardware projects and games, the students learn and experiment conductivity, input/output, sensors, logic, design and much more. Utilizing the most advanced educational tools developed in the Silicon Valley and MIT Media Lab, including LittleBits, Makey Makey and Scratch, students will come to understand technology as a tool to solve problems and create useful things. By the end of the course, our students would have moved beyond playing mobile and computer games, and begin to see what goes on behind the electronic devices they see everyday.

Session Breakdown
Learn the basics of how electricity works

Learn fundamental electronics concepts including circuit, resistance, triggers

Build projects with littleBits hands-on

Design their own electronic projects based on the blocks
What You'll Need:

Laptop (Windows/Mac)

A Google account to save their Scratch projects.




Tinker Hardware Exploration April 2017 Holiday Camps (6-8 years old)
Each camp consists of 3 classes over the course of a week

Classes are held from Tuesday to Thursday

Each Tinker class is 2 hours long
Hardware Exploration Course Dates
April 11th - 13th, 12:30PM to 2:30PM
Location: #04-13 Stamford Court, 61 Stamford Road, Singapore 178892
How to get here:

By car: turn in at Stamford Road or Loke Yew Street from Hill Street. Parking available in the building.
By public transport: Alight at City Hall MRT and walk 5 minutes to Stamford Road or alight at Stamford Court bus stop

8:1 Ratio Guarantee
We believe in developing a personal relationship with the student. Our instructors are as much teachers as we are facilitators, and coach for our students' learning. By ensuring a small class, each student benefits from maximum attention from instructor and teaching assistant, and at the same time, learns from peers.

Personalized Learning
Our courses are designed for students to run at their own pace. Our curriculum is level-based for each module, meaning that each student can learn at their own appropriate, customized pace.

Hands-on project based learning
First Code classrooms are messy, chaotic and we love it! We believe in hands-on creation, experimental learning and lots of discussion.

Follow on Curriculum for Immersed Learning
What happens after this course? Like learning any other language, learning to code is best done through an immersive, continual commitment. We offer a multi-year curriculum that allows students to deepen and broaden their interests in computer science and software development. Sign up for our full year program to bring your child through our designed curriculum from beginner to intermediate levels.


Apply these discount codes at checkout to receive discount for your ticket!
EARLYBIRD
Early Bird Discount - Enroll before 21 March 2017 to receive 20SGD off each child's ticket.
BUDDYUP
Buddy Up Discount - Enroll siblings together to receive 20SGD off each child's ticket.
Note: First Code Academy reserves the right to cancel a ticket if an incorrect promo code is used.


Shaping Future Creators
First Code Academy is a leading education institute that teaches kids coding courses and develop curriculum for K-12 students to learn not just coding skills, but computational thinking. Our goal is to empower children and teenagers to become creative leaders in the digital era, for their future career and for driving social change.