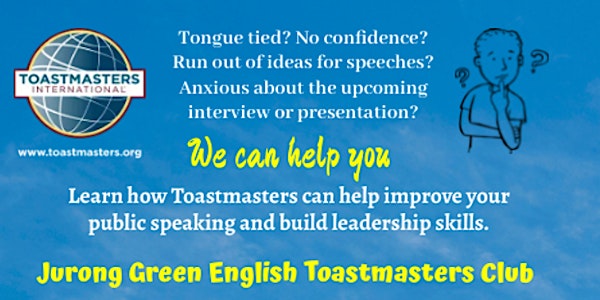 Toastmasters Meeting
We are a Toastmasters club in the west that meets TWICE a month. That means more opportunities for you to practise your public speaking.
About this event
Our Club provides a safe and non-judgemental place for you to hone your communication skills. You may practise your speech, present your idea, offer an opinion, provide feedback, learn to facilitate a meeting etc.
Join us with ZOOM to actively participate in a fun way to improve your Presentation & Communication skills. Our meetings will be held virtually until further notice. All Guests can participate in our meetings.
Our Zoom Meeting Link @https://bit.ly/JurongGreenEnglishTMC
You will become more confident in speaking.
You will be better at presenting your idea to your colleagues or your clients.
In the meeting, our members will present their prepared speeches, and they will get feedback from other, more experienced speakers. As a Guest, you may try out our impromptu 1-2 min speech on a specific topic. To practise thinking on your feet; how fun is that!
No matter what your reason is for joining, one thing is for sure: you will have a warm family welcoming you with open arms.
Many clubs in Singapore meet only once a month, and some charge a fee for sitting in. We have twice the opportunities for you to speak, and guests are welcomed for FREE.
If that sounds right for you, then join us.
We meet on the 2nd and 4th Fridays of the month
(7.00 -9.30 pm) Singapore Time.
Welcome to join us @https://bit.ly/JurongGreenEnglishTMC