Our Monthly Meeting is held every last Wednesday of the Month!
About this event
BREAKTHROUGH TOASTMASTER CLUB'S MEETING (April 2021)!
Toastmasters is a safe place for aspiring speakers and professionals who want to improve and hone their speech-craft and communication skills!
Just like learning to swim, public-speaking is a skill that cannot just be learnt in a workshop alone. In order to see lasting results, one needs to commit to continual practice, in a nurturing community. That's where a club like BTMC - Breakthrough Toastmasters Club steps in!

Why Don't You Visit Our Chapter Meeting and experience it For Yourself?
You'll get to experience the following:
- Hear from great speakers attempting their speech projects!
- Learn from speech evaluators as they give constructive criticism!
- Participate in impromptu Table-Topics!
- Connect & plug into a vibrant learning community of like-minded learners!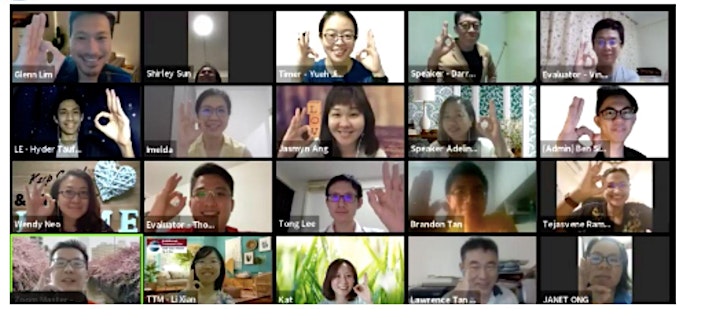 NOTE
Most Toastmasters Chapter Meetings are held as closed-door community events strictly for members. But just for this August, we are inviting members of the public to participate in our chartered meeting.
Our chapter meeting will be conducted LIVE in our usual parliamentary format, with Live Speeches, Real-Time Evaluation Critiques, Open-topic Impromptu Speeches (Table-Topics), and even a hi-value Educational Segment from a seasoned linguistic expert!
This April meeting is hosted by BTMC - Breakthrough Toastmasters Club (provisional)
IN ORDER TO RECEIVE THE LINK & DETAILS, PLEASE MAKE SURE YOU SUBMIT YOUR ACCURATE PARTICULARS.
REGISTER NOW!