Find out how you can better engage potential/new customers and to increase conversion through social media with our proven strategies
About this event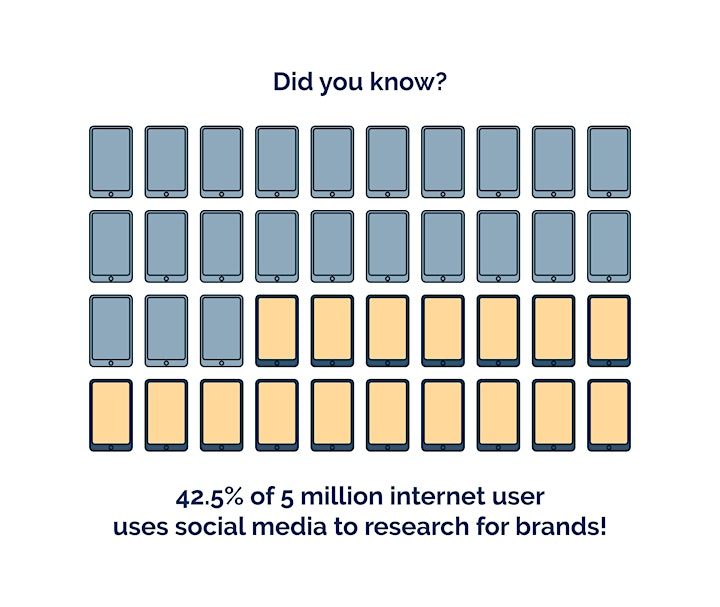 What does this mean for your business?
If you are not actively posting and engaging on social media about your brand/company, you are definitely behind your competitors and losing potential customers.
Currently there are 4.2 million active social media users in Singapore alone, with a +4.3%(210 thousands) annual increase of users in 2020.
The total value of consumer goods e-commerce market in Singapore had an alarming growth of 32.4% reaching $2.41 billion in 2020 compared to 2019 as well.
How does social media help with my business?
Now that consumers often experience interactions with companies that are not face-to-face, shifting to social media has become an ideal way to actively engage with customers.
When it comes to enhancing your brand's overall visibility, there is no subset of marketing that is shifting faster than social media. Every business or professional can benefit from social media's impact when it comes to reaching their audience and strengthening their brand.
If you are struggling to find out why your post is not generating engagement or conversion despite posting actively and spending huge advertising dollars?
Join us in this interactive webinar where our founder Wan Ting will be covering tangible tips for you to be able to improve your social media marketing just by applying a few simple strategies so that you can:
Increase conversion rate by engaging potential customers
Speed up your sales cycle
Be ahead of your competition
Now, you can learn how to show the world your brand and product efficiently
Register now as seats are limited!
Organiser of Top 5 Ways To Boost Sales Using Social Media w/o Busting Advertising Budget
Tan Wan Ting (Founder @Weave Asia)
Wan Ting has 10 years of experience in Digital Marketing, graduated from Nanyang Technology University. Wan Ting has a Bachelors's in Business, specialising in Marketing. She started running digital marketing campaigns for big brands like L'oreal Professional & Golden Village from a young age during her time in university.
She recently won Young Entrepreneur of the year at The Business Excellence Forum & Awards 2019.
Weave Asia has proven to be a fast-growing company consisting of a team of talents in specific fields. Weave Asia has blossomed to expand its offices in Singapore, Malaysia & Hong Kong. Whatever your digital marketing needs, Weave Asia has it woven for you.
We specialise in crafting a digital strategy for your business and we specialise in Search Engine Marketing & Search Engine Optimisation.