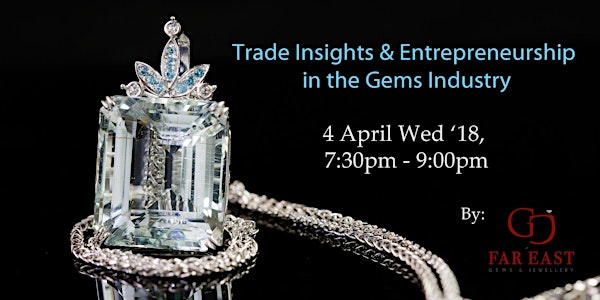 Trade Insights & Entrepreneurship in the Gems Industry
When and where
Location
Far East Gems & Jewellery 222 Queen Street #02-02 188550 Singapore
Description
DESCRIPTION
Have you toyed with ideas to start your own business? Are you a lover of gems? What if you can merge your interest in gems with doing business?
Being in the gems trade for a decade, we've come across many who are passionate in gems and are keen to explore starting out a business. However, people who are new to the industry find that it maybe hard to gain deeper insights unless they have the right connections.
As gemmologists, trainers and entrepreneurs, we would be glad to share our trade knowledge and experience! Our founders, Mr. Tay Kunming and his wife Ms. Loke Huiying set up The Gem Museum with a vision of it being the international platform to bridge the gemstone industry with the rest of the world.
The Gem Museum is part of the Far East Gem Group which includes: Far East Gems & Jewellery, Far East Gem Institute, Far East Gem Lab and The Gem Museum
In this session, Mr. Tay and Ms. Loke will share their trade insights and open up to participants for questions regarding entering into the gems industry. They will be presenting the Gem Ambassador program, an entrepreneurship opportunity as a stepping stone.
Register for your seat to gain valuable trade insights and entrepreneurship in the gems industry!
Please email us at info@fegj.com.sg if you have queries or visit us at www.fareastgemsjewellery.com for more corporate information.
About Mr. Tay Kunming
Mr. Tay Kunming is a certified gemmologist, diamond grader and gem dealer. Besides managing the Far East Gem Group, Mr. Tay is active in championing initiatives in the industry under his roles as Honorary Secretary of the Diamond Exchange of Singapore and the Assistant Honorary Secretary of The Jewellers' Association of Singapore.
About Ms. Loke Huiying
Ms. Loke Huiying is a certified trainer in gemology and has been training jewellery professionals and business owners since 2009. In early 2015, she personally curated about 1000 samples for The Gem Museum. Ms. Loke has appeared in various national TV programs sharing her knowledge on the value and authenticity of gemstones.