Description
Ronald K is a devoted trader who went through multiples market cycles and made his first million dollar in the Singapore stock market. In his early days, he turned the last few thousands of savings into a 6-digit figures within 18 months through trading and investing in Singapore stock market. He specializes in analyzing Smart Money Movement instead of using the conventional Technical and Fundamental Analysis. Do join him in his upcoming workshop to learn more about his ultra-precision timing on buying before a breakout and before big volume which will give you an edge in the stock market.
Learning Points:
Learn how to use Time and Sales and Market Depth to give you an edge in the stock market

Learn how to analyze if Smart Money is interested in a stock using FREE charts available online (no software required)

Learn how to turn small capital to huge profits through capital gain instead of dividend gain


Strictly limited seats only. No refreshments provided.
About the speaker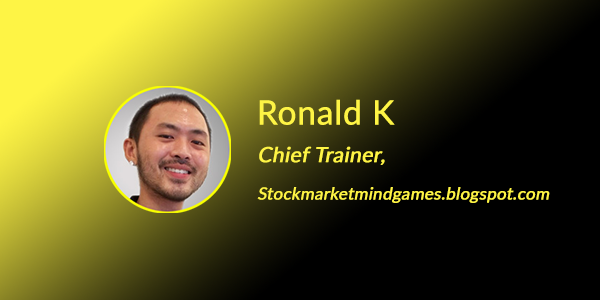 Stockmarketmindgames provides blogging, seminars, previews and education in stocks and other instruments. It's a one-stop learning centre for stock market enthusiasts who wishes to learn and know the truth about the stock market. Frustrated with having to read news, reports, analysis to keep up with the latest information, the creation of stockmarketmindgames blog allowed for the latest market outlook beforehand to be broadcasted through one specific medium.

Stockmarketmindgames continues to educate and inspire new traders in Singapore and other parts of the world to learn the art of speculation. The growth of stockmarketmindgames has seen its focus transcend from its initial roots to encompass all forms of trading, investments and speculation -- making it the premier online blog for stock market enthusiasts, financial advisers, traders and remisers.