Description
Are you in the Training Industry?
Few people choose training and development while they are still in school, and yet there are talented and knowledgeable trainers working in every industry.
While we storm the challenging market ahead, how can we pull resources together to grow the training business collaboratively?
Today while we brand our training business, how can we increase our strength in terms of marketing and sales of our programs? What are the current market updates for trainers on training? Is there new markets to explore other than the local market?
The Time Is Now!
Come join us for a Meet up session on August 15 at PS100 Building, 100 Peck Seah St S079333 #09-08 from 7:00pm to 9:00pm!
Introducing the Train The Trainer Meet up Session, a 2 hour workshop designed as an exploration of the business skills that trainers need, and to get your training business started in the learning process in an interactive and fun environment.
If you are a trainer, and you are thinking of how to do more to promote your programs and yourself what will help you to become an excellent trainer, this Meet session will help.
Our Discussion will include:
Essential Business groundwork For Trainers
How Being Genuine Enhances Training
Elements of Good Questions for Trainers
Applying Listening Skills for Trainers
Key Skills In A Trainer's Toolbox
So don't wait, come join us for a refreshing and truly exciting Train The Trainer Meet up Session!
Seminar Details:
Date: 15 Aug 2017, Wednesday
Time: 7-9PM
Venue: PS100 Building #09-08 100 Peck Seah St S079333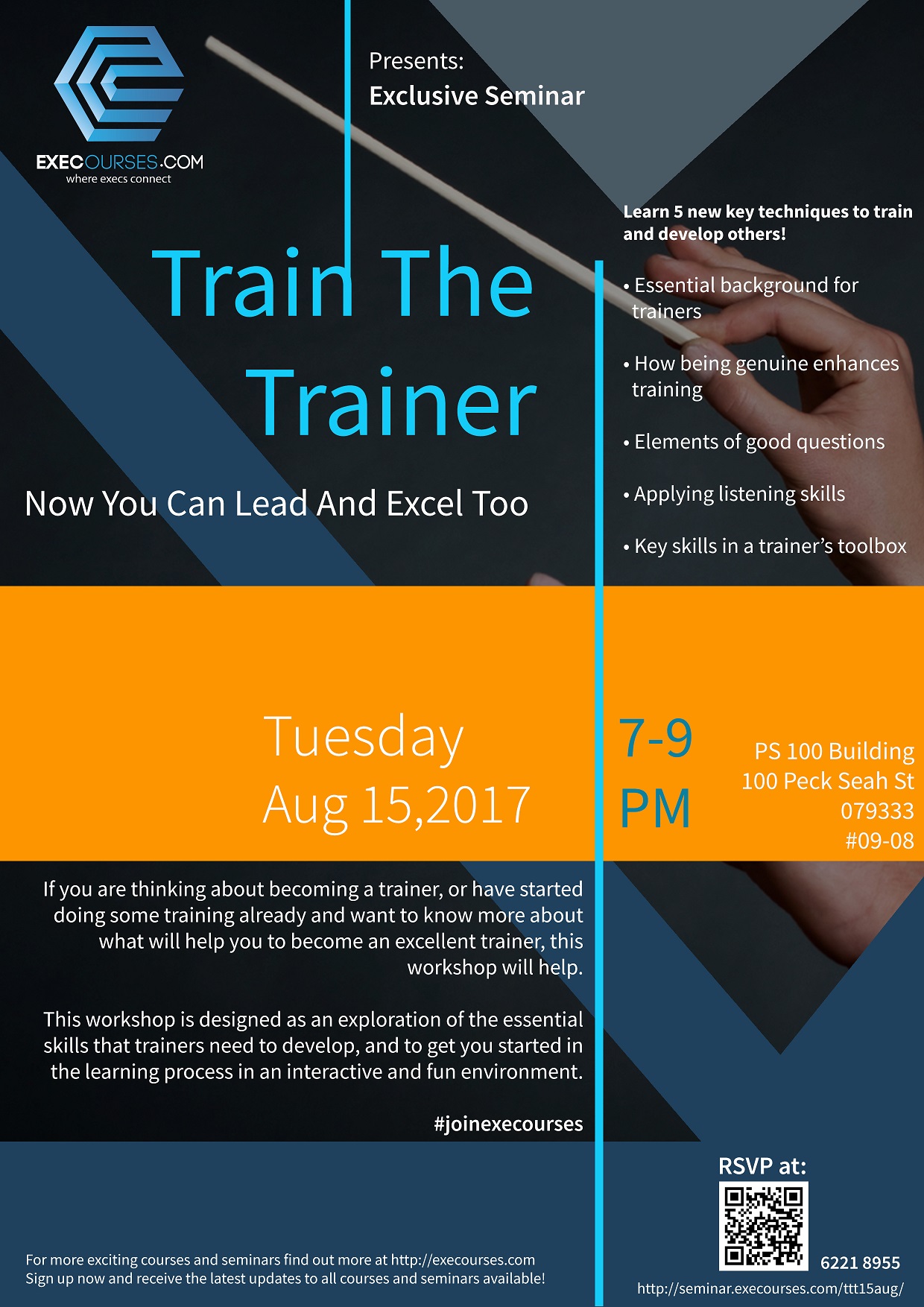 During this session, we will look at ways to build rapport and how to use facilitative training. Participants will then evaluate themselves to see what skills they need to build in these areas.
Defusing Difficult Participants
Next, we will look at some potential problem situations and ways to defuse them before they start.
Essentials for Success
We will ask participants to complete a checklist of what attributes they feel makes a good trainer. This will also help participants identify areas for further training.
Do's and Don'ts for Trainers
To wrap up the learning points, participants will discuss a checklist of do's and don'ts. Workshop Wrap-Up At the end of the day, students will have an opportunity to ask questions, complete an action plan, and talk with the trainer.