Description
Get your tickets online at $20.
Walk-in Price: $25
Limited spaces available!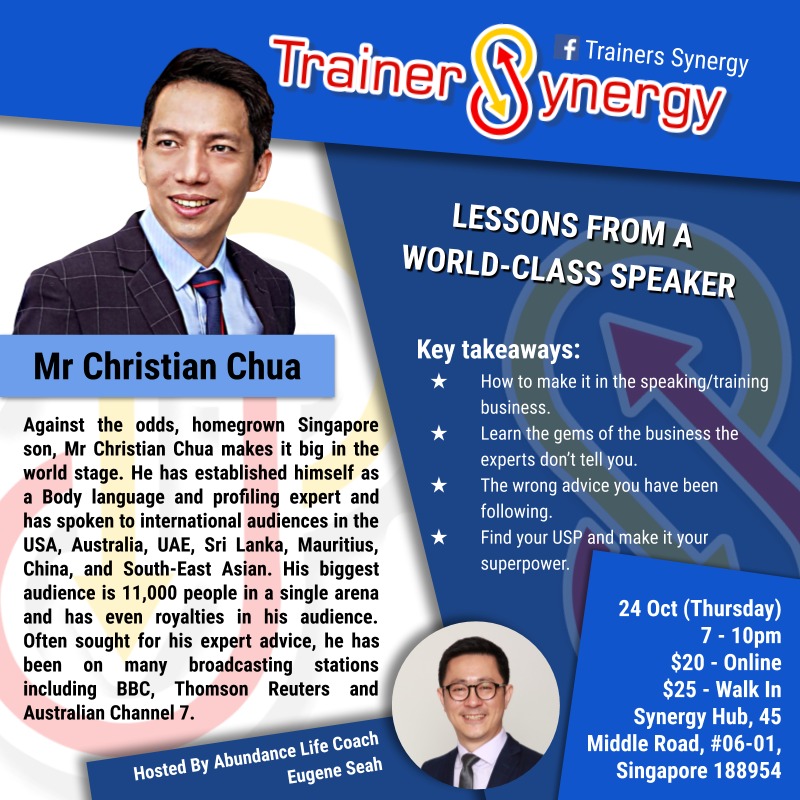 Lessons from a world-class speaker
Christian has spent more than 10 hrs on his content just for this session so far to make sure no one regrets coming. It will be content-rich and thought-provoking.
He will address many topics including
Fees: Compromise or walk away.

Target: Mass market or Niche market

Finding your superpower

Networking Tips

Stagecraft

'Let's talk about referral fees.'
and some other surprises.
He will also take questions and you will be able to get answers to your burning ones.
Together, let's grow our business.
About Christian Chua
Against the odds, homegrown Singapore son, Mr Christian Chua makes it big in the world stage. He has established himself as a Body language and profiling expert and has spoken to international audiences in the USA, Australia, UAE, Sri Lanka, Mauritius, China, and South-East Asian. His biggest audience is 11,000 people in a single arena and has even royalties in his audience. Often sought for his expert advice, he has been on many broadcasting stations including BBC, Thomson Reuters and Australian Channel 7.