Description
Transformational Yoga® offers a complete approach to well-being, focusing on the physical, emotional, mental and spiritual aspects of health. It is a Powerful, yet gentle, everyone from the most experienced yogis to complete beginners can reap the benefits of this purifying yoga practice.Moving far beyond just physical exercise, Transformational Yoga functions on a deeper level, stimulating kundalini energy to move up through the chakras. In depth focus of asanas, the chakras, mantras, and breathing and meditation techniques gives you the knowledge you need to purify your body and connect with your true self.
❤ Stabilized Emotions
❤ Improved Balance
❤ Greater Self-Esteem
Transformational Yoga
Sue Sze
*Thursdays 5,12,19,26 March 2020
(7.30pm – 9.00pm)
*Fridays 6,13,20,27 March 2020
(10.00am – 11.30am)
**Sat 7,21 March 2020
(8.00am – 9.30am)
Location: Outdoor – 28 Duxton Hill S089610)
*Thursday and Friday Classes will be held @ The Golden Space: 418 Race Course Rd 218665
**Sat Classes will be held @ 28 Duxton Hill S089610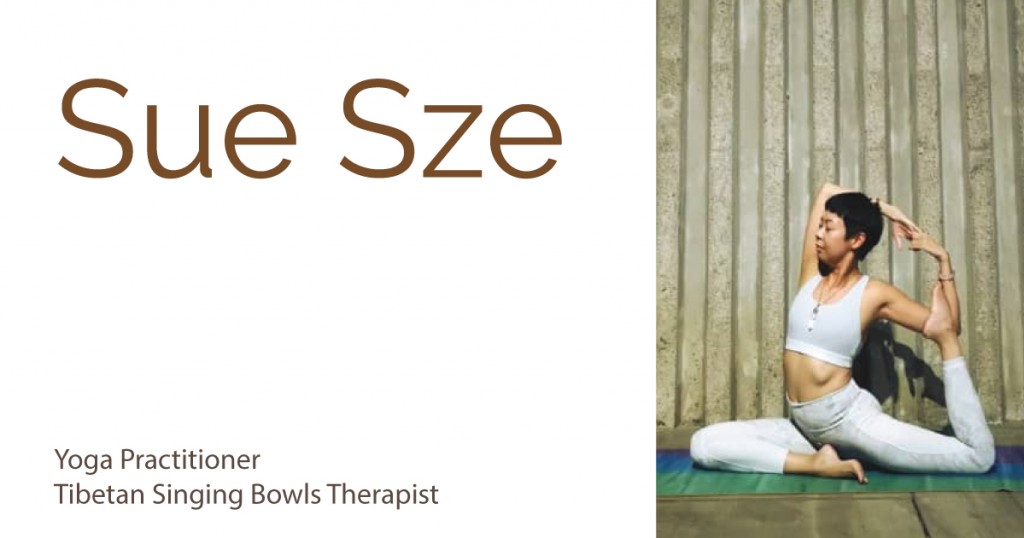 Sue is certified in YAI 200 & 300 Hrs Yoga Instructor in Transformational Yoga as well as trained as an Aromatherapy Yoga Instructor. She attended Awaken~The Divine You & Instructor Certification Course Level 1, trained by Master Umesh H. Nandwani since 2018. She also following Linda Chandler's "Core Value Training" for leadership development since 2013. Sue trained by Master Santa & Shree from Nepal on her Singing Bowls Healing program that enables her to customise her service for her students & clients need.
Sue is a believer that a great instructor begins as a great student. She is open and receptive to the practice of different mindfulness meditation methodologies. In her path of self-cultivation & self-realization, learning and growing is her ultimate pursue. In this way, she can impart new synergies & elements to her classes.
Sue holds clarity in moving on with her commitment towards her life purpose – dedicating her life to serve in the yoga path; reaching out, touching lives in humanity; bringing blessings & gratitude to the nature & Mother Earth in love and harmony.
She is inspired by living a healthy life, becoming a greater human being who is constantly radiating love, peace, harmony and light to the planet.
Learn more about Sue here.