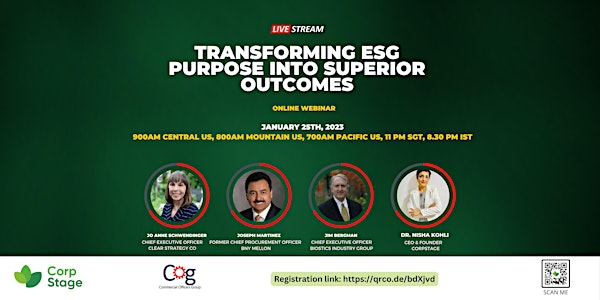 Transforming ESG Purpose into Superior Outcomes
Transforming ESG Purpose into Superior Outcomes
About this event
The ESG ecosystem is facing significant growth, resulting in both rewards and risks for involved firms. Regardless of the industry, or if the firm is a large corporation, a small business, or a public sector agency, there are rewards and risks arising from both the ESG strategy and its implementation. What are the keys to success in developing a strategy with purpose? How can the implementation plan prove to be an enabler rather than a disabler? Join us for this engaging and interactive session with three experts in how to transform your ESG purpose into a beneficial reality. We will address four key elements to ESG implementation success:
• Purpose – defining your ESG strategy with a compelling and actionable purpose
• People – bringing the right people, with the right talents into the pursuit
• Process – developing and following an effective, efficient, and engaging process
• Performance – delivering results is key, and success is ultimately measured by performance
We have assembled a panel of three experts in this domain:
• Jo Anne Schwendinger - Founder/CEO at Clear Strategy Co., a firm helping organizations attain ESG excellence through world-class stakeholder engagement, strategy, project management, reporting, and governance.
• Joseph Martinez – Chief Procurement Officer and senior executive with six multi-national banks and financial services firms, including BNY Melon, MUFG, Deutsche Bank, Bank of America, Wachovia, and JPMorgan Chase
• Jim Bergman – CEO of Biostics Industry Group, a firm which focuses on the commercial models needed in the renewal fiber and bio-plastics sector, as well as the tools and talent required to attain success in the ESG domain
Dr Nisha Kohli- CEO and Co founder of Corpstage a firm which focuses on making sustainability mainstream by creating an ecosystem of sustainability.
Join us as we learn from Jo Anne, Joseph, and Jim as they share their in-the-trenches experiences and insights regarding success in implementing your ESG purpose.