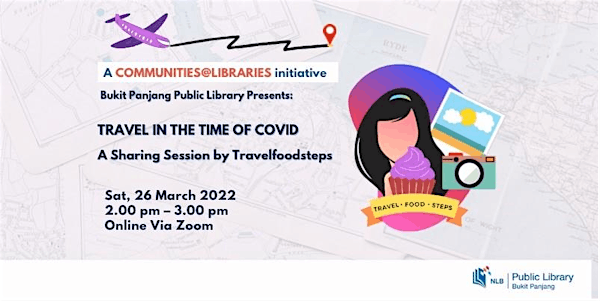 Travel In The Time Of Covid | Communities@Libraries
Join this talk to learn more about the VTL rules and rekindle your travel vibes with Travelfoodsteps!
About this event
About the Programme
Are you keen to travel again through the Vaccinated Travel Lanes? Join Ting Wei from Travelfoodsteps as she sheds light on VTL rules and shares tips on her recent trip to the Maldives. During this talk, Ting Wei will also introduce interesting spots in Singapore which are lesser known. Rekindle your travel vibes by joining us for this talk!
About the Speaker
An avid traveller since pre-endemic times, writer and photographer Travelfoodsteps has during the covid times "travelled" extensively in our very own backyard: on hikes, staycations and cruises. Since the VTLs opened, she has travelled to Maldives and has multiple upcoming trips in the works!