Tribeca Tipple, Artisanal Wine and Spirits Fair. Brought to you by 5 Somewhere and Distilled
About this event
Join us as we take you on a tasting experience like no other. At the Tribeca Tipple, we invite you to select from a journey of either Artisanal Tequila, Rum, Vodka, Whiskey, Red Wine, White Wine, or the Best of Wine to experience the best there is to offer. Your journey is complemented with a fantastic selection of nibbles to enhance the tasting experience.
Each $69 experience includes 5 tasting samples of the preferred flight and a full-size option from the tasting menu selection and nibbles which include Truffle Fries, Mini Beef Burgers, and Chicken Wings.
Tequila:
Código 1530 - The best tequila for people who hate tequila! No need for salt and lemon to mask the fine taste of this agave. In five expressions: Blanco, Rosa, Reposado, Añejo and Extra Añejo.
Rum:
Rum & Cane - This collection is a marriage of rums from different distilleries from one region, capturing the vibrancy, style, and terroir of that area.
Ron Colón Salvadoreño – This coffee-infused overproof rum from El Salvador is full of flavour and easy on the senses.
Six Saints Rum of the Caribbean – Tropical fruit and Caribbean spices abound in this aged rum from Granada.
Vodka:
Old Youngs - Australia's favourite vodka! Rediscover vodka through this award-winning range of handcrafted spirits which include Pure No. 1; Cold Drip Coffee; Pavlova and Smoked.
Black Cow Vodka – From the farms of West Dorset, this vodka made from milk is smoooooth and creamy. Even though it's made from milk, it is lactose and gluten-free.
Whisk(e)y:
High West – Founded in 2006, High West became Utah's first legal distillery since 1870. Since then, the liquid has become a favourite amongst whiskey fans.
The Lost Distillery Company- Half of Scotland's distilleries have been destroyed or lost forever. The Lost Distillery Company's archiving team research these lost legends to understand the whisky they might have produced. Today it is brought to life through a union of aged single malts that reflect old-style whisky using modern whisky making techniques.
Wolfburn – Single malt scotch from Scotland's most northerly whisky distillery is becoming a legend before its time with its core range of delicious easy-drinking drams.
Red Wine Flight:
Experience the world of red wine where we take you on a journey of tasting the off the beaten path wines - South African Pinotage, Italian Barbera d'Alba, French Pinot Noir, Australian Grenache, and Chilean Carmenere
White Wine Flight:
Don't just limit yourself to chardonnay, explore the vast world of white wines. We bring you a variety from Chilean Viognier Riserva, McLarenvale Riesling, French Aligote, Italian Catarato, and the classic Marlborough, New Zealand Sauvignon Blanc to enjoy.
Best of 5:
Let 5 Somewhere take you through some of our best wines - our Italian Mieru 14, Marlborough, New Zealand Sauvignon Blanc, South African Pinotage, Australian Riesling and Italian Barbera d'Alba. All sure to keep you coming back for more.
And because limitations are no fun, you can simply add on more tastings so you can enjoy the best of all our worlds.
The best part? Enjoy a 20% discount on all purchases during the event.
All tastings are limited to 90-minute slots. Each table can seat a maximum of 5 vaccinated pax.
**Entrance to the fair is free, join us for just the shopping experience and 20% off on 21 or 22 January at Tribeca. Tasting experiences require ticket purchase**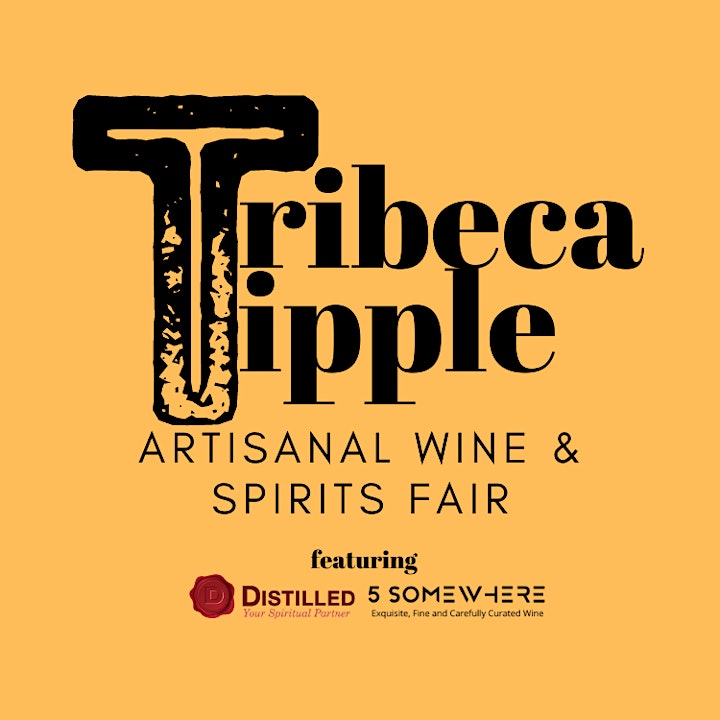 Date and time
Location
Refund policy
Organiser of Tribeca Tipple - Artisanal Wine & Spirits Fair
Distilled is an independent, Singapore-based brand development agency representing beverage brands both locally and regionally.
5 Somewhere is a team of wine aficionados and extremely experienced sommeliers. Through our wine journey, we embarked on a quest to bring quality tastes to the shore of Singapore at competitive prices.
Together, we bring to you an experience of wine, whiskey, rum, tequila and vodka, like no other.
​