Event Information
Location
Windsor Nature Park
30 Venus Drive
Singapore, Singapore 573858
Singapore
Description
"Reimagine productivity. It is not exhaustion, It is not grinding yourself like a machine. You are not a machine. Rest."

- The Nap Ministry
The True Nature series is all about re-connections and gentle self-care. To explore our true nature, through nature and other complmentary self-care practices.
In this second installation for 2019, we bring to you Forest Bathing X Gentle Flow Yoga.
As we approach the end of the half-year mark, let us come into stillness, let us move softly. Let us breathe and tune into our senses. Let us rest and be nourished, so that we can thrive again in the second half of 2019.
We begin with guided forest bathing, taking you on a gentle and slow immersion in nature. Accessible to all, forest bathing awakens your senses and gently guides you into a space of be-ing and presence in nature. The journey will then continue as we guide you to tune in to your body through a gentle flow yoga practice. A soothing blend of gentle movement, mindful breathing, essential oils and easeful tunes, this practice is a massage for the senses, leaving you feeling calm, centred and more connected with your true nature. A simple tea ceremony - a communing with nature - concludes this gentle self-care experience.
HOW YOU WILL BENEFIT FROM THIS EXPERIENCE
Enjoy physiological health benefits through forest bathing.

Rest and relax deeply. Bring the sense of calm and centered-ness back into your everday life.

Restore your body, heart and spirit through gentle and accessible movements suitable for everyone.
OTHER INFORMATION
Fee is inclusive of certified guides and instructors, facilitation, light snacks and tea.

If you prefer to pay via bank transfer or Paylah, please email to hello@xiunatureconnections.com, indicating number of tickets, details of registrants (name, email addresses, mobile numbers). Your registration will be confirmed only after payment(s) is made successfully.

A minimum of 6 participants is required.

Please read the Terms and Conditions .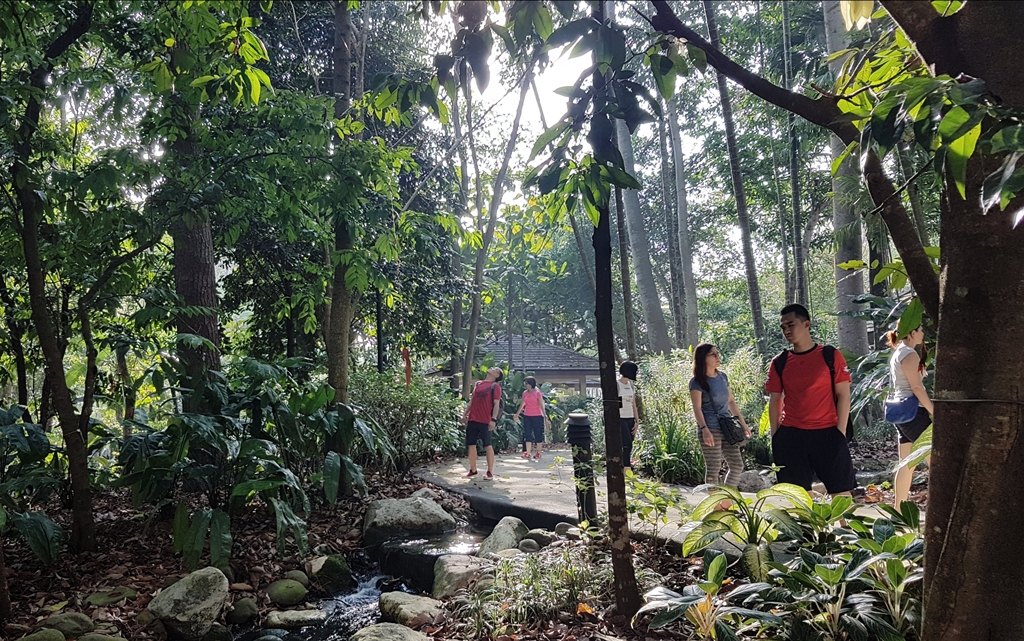 ABOUT YOUR FACILITATORS
Youmin is a certified nature and forest therapy guide and a yoga nidra facilitator. A pioneer in Singapore and the Southeast Asia, she is passionate about sharing deep restorative rest for well-being, especially for stressed out and disconnected city dwellers. In this frantic world we live in, she believes that we need to go into the 'rest space' to find ourselves, we need to slow down in a practical manner, and then, we can thrive sustainably. Working with individuals, groups and organisations, Youmin's intention is to support them to rise up as well-rested leaders. She has also guided and taught at overseas workshops and retreats including Finland, Bangkok and Chiang Rai. Her work has also been shared at international and local conferences, as well as publications. She is the founder of Xiu Nature Connections and is an active contributor of the Shinrin-yoku 森林浴 Forest Bathing - Singapore community.
Desiree is a practising psychologist who believes that wellness in not all in the mind, but very much also in the body and soul. Did you know that the word 'psychology' comes from the Greek words that translate as 'the study of the soul'? In pursuit of a deeper understanding of this study, Desiree completed a life-changing 200-hour yoga teacher training in Hatha yoga with Emily Kuser and her international faculty. Since then, Desiree has continued to deepen her personal and professional yoga journey, which included a Yin Yoga teacher training at Hom Yoga with Leigh Khoo and Floydd Wood. The journey she experienced with these teachers truly shook things up and awakened a desire to share the gifts that have been illuminated. She is grateful for the opportunity to share this journey in the peaceful, light-filled space of Yoga in Common, and thrilled to have now found a natural partnership with Xiu Nature Connections. Desiree's intention is clear - to hold space for the journey back to Self.
---
FAQS
Can you tell me more about Forest Bathing? It is my first time attending one!
Forest bathing is a wellness practice. It is a mindful and slow sensuous immersion in nature, with our clothes on! Through guided activities, participants slowly awaken their senses, tune in to the present moment and re-connect with nature. In the process, stories surrounding nature - both inner and outer, often arise. It is unlike a usual stroll in the park, or a hike, or a nature walk. Science and research studies on forest bathing have quantified health benefits including improved mental clarity, increase body immune functions, increase production of anti-cancer proteins, lower stress levels, lower blood sugar levels and lower blood pressure, amongst many others. You do not need to have hiking or nature experience to participate in forest bathing.
Can you tell me more about Gentle Flow Yoga? It's my first time attending one!
Gentle flow yoga is a slow, mindful yoga practice that is suitable for people with all levels of experience – beginners are more than welcome! It is important to us that postures are accessible to all, so that we can stay true to our intention of nourishing ourselves and reconnecting with the nature within and around us. Do, however, let us know if you have any physical injuries so that we can suggest alternative/modified postures whenever necessary.
What must I bring to the session?
Please bring along a yoga mat, water, umbrella / light rain jacket, insect repellent, personal medications (if required).
Is there a minimum age requirement for this event?
The programme is designed to be a slow, mindful and contemplative experience, it would be more suited to anyone above the age of 13.
What if it rains?
Generally, sessions are cancelled only in the event of very heavy downpour or if there is risk of lightning. In such situations, we will personally contact you at least 30 minutes before the meeting time to confirm if the session will proceed or be cancelled. For sessions that are cancelled by the host/guide/facilitator, participants can register for another similar session without any additional charges. However, there will be no refunds.
What happens when there are not enough participants to start the session?
We rarely cancel sessions due to small number of participants. However, if we do, paid registrants will receive notifications from us and can register for another similar session without any additional charges.
---
Upon registration, you will receive a confirmation email from Eventbrite with important details of the session. This includes the exact meeting venue, directions, things to bring etc.
Xiu Nature Connections and the Being With Practice come together in this crossover project to bring to you a tranquil self-care experience.

For enquiries, please email to hello@xiunatureconnections.com .
Date and Time
Location
Windsor Nature Park
30 Venus Drive
Singapore, Singapore 573858
Singapore
Refund Policy