Description
A collaboration between Xiu Nature Connections and Being With, the True Nature series is all about re-connections and gentle self-care. Join us in this tranquil exploration of our true nature, through nature.
"Keep shining beautiful one, the world needs your light."
We return in the month of September with True Nature series: Forest Bathing x Women's Circle.
In this 3-hour self-care experience, you will be guided to explore and discover your relationships and connections with nature - outer and inner. Forest Bathing takes you on a gentle and slow immersion in the nature around you. Through awakening all your senses, being present in the moment, let the unfolding nature gift you with your stories. A simple tea ceremony - a communing with nature, eases us into our Women's Circle. We invite you to take your place in the circle as we gather and connect over what matters deeply to us. Through evocative journaling, contemplation and authentic conversation, we will practise giving and receiving the gift of holding space for ourselves and each other. Emerging from this refuge of authenticity and simplicity, we hope you have re-discovered the peace in your soul and continue to give to the world the best of you.
We invite you to take a seat in this authentic space, gift yourself the luxury of time, the luxury of gentleness, and the luxury of self-love. Your true nature awaits you.
This experience is crafted to be slow, soothing and safe. It is accessible to everyone and no prior experience in trekking or hiking are required.
We only take up to a maximum of 15 participants. Individuals, friends, couples are all welcomed!
---
Reviews
"Absolutely amazing forest bathing experience. Was able to finally just relish in the loving arms of nature, and openly share and listen to beautiful unique strong women. The session grounded me, made me feel relaxed, awakened, and inspired. Thank you You Min and Desiree for this."
"Despite there being other visitors to the park and the distant noise of traffic, Youmin gently and effectively created a still and quietly powerful place, for all of us together and individually to take a journey in this little urban forest, with our senses to guide us. Some of us had resident wildlife come out to commune with us, and that was incredibly special too. We all were able meaningfully articulate our thoughts, impressions and personal takeaways from the session. I cannot recommend this experience enough - go, take part, and come away grounded, recharged and reconnected with the natural world."
"Heartfelt gratitude to you both. I have been struggling to take mindful steps. Got right in touch with the mindful energy while walking. Hope you can host these regularly for ladies to drop in and out, to help us stay grounded to what is real and true. Your presence encouraged the open and authentic sharings."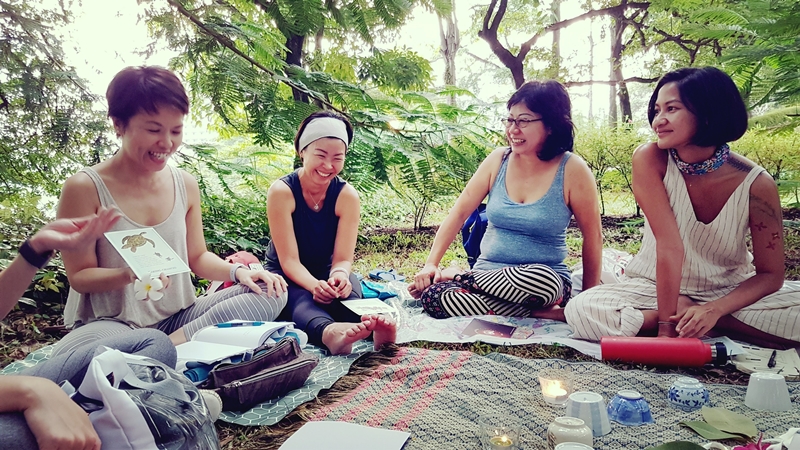 ---
About your facilitators
You Min is a certified nature and forest therapy guide with the Association of Nature and Forest Therapy Guides and Programs, USA. A pioneer guide in Singapore and the Southeast Asia, she is passionate about sharing nature and forest therapy for well-being, especially for stressed out and disconnected city dwellers. Slowing down, re-connecting with nature and discovering oneself - these are part of her story. And her intention is clear - to support others on their journeys through her nature therapy practice. Spearheading nature therapy for wellness in the ASEAN region, You Min leads forest bathing sessions at wellness retreats in Chiang Rai, Thailand. She is the founder of Xiu Nature Connections and is an active contributor of the Shinrin-yoku 森林浴 Forest Bathing - Singapore community. She is also a qualified educator and plant variety protection examiner.
Depending on the day of the week, Desiree goes by different labels - Clinical Psychologist/Therapist, Yoga Guide, Women's Circle Facilitator. Truth be told, beyond the formal training and certifications, Desiree remains first and foremost a student of Life and credits the many teachers that have come through her life for challenging and empowering her to grow deeper and wiser, and for awakening her desire to share the gifts of this journey. She shares her practices at Kaleidoscope Therapy Centre and at Yoga in Common, and is thrilled to have now found a natural partnership with Xiu Nature Connections. Join Desiree in her intention to replenish, empower, and hold space for our journeys back to the Self.
---
FAQS
Can you tell me more about Forest Bathing? It is my first time attending one!
Forest bathing is a wellness practice. It is a mindful and slow sensuous immersion in nature, with our clothes on! Through guided activities, participants slowly awaken their senses, tune in to the present moment and re-connect with nature. In the process, stories surrounding nature - both inner and outer, often arise. It is unlike a usual stroll in the park, or a hike, or a nature walk. Science and research studies on forest bathing have quantified health benefits including improved mental clarity, increase body immune functions, increase production of anti-cancer proteins, lower stress levels, lower blood sugar levels and lower blood pressure, amongst many others.
Can you tell me more about the Women's Circle? It's my first time attending one!
A Women's Circle is a gathering of women, often around a theme, with the intention of reflecting, sharing, listening and connecting. The themes of each circle are thoughtfully selected to arouse and nurture (re)connection with ourselves and the world around us. They may consist of topics that we may, on some level, have a deep yearning to delve into, subjects that we may have somehow been conditioned to feel disempowered to discuss. Each woman will have the time and space to contemplate and share as much or as little as she would like to about the theme - her feelings about it, her experience of it, her relationship with it. Sharing is not compulsory - listening respectfully and compassionately is contribution enough. No prior experience in a Women's Circle is required, at all. All are welcome.
Is this session for women only?
Yep! This session is a gathering of women, for women. We are planning men's circles and humanity circles (for both men and women). If you are interested to receive our latest updates, please leave us your contact at xiunatureconnections@gmail.com !
What must I bring to the session?
Please bring along water, pen/pencil, umbrella, insect repellent, hat, a small picnic mat or tarp to sit on the ground (plastic bags are perfect for this too!). If you have a personal journal, you are encouraged to bring it along.
Is there a minimum age requirement for this event?
The programme is designed to be a slow, mindful and contemplative experience, it would be more suited to anyone above the age of 16.
What if it rains?
Generally, sessions are cancelled only in the event of very heavy downpour or if there is risk of lightning. In such situations, we will personally contact you at least 30 minutes before the meeting time to confirm if the session will proceed or be cancelled. For sessions that are cancelled by the host/guide/facilitator, participants can register for another similar session without any additional charges. However, there will be no refunds.
What happens when there are not enough participants to start the session?
We rarely cancel sessions due to small number of participants. However, if we do, paid registrants will receive notifications from us and can register for another similar session without any additional charges.
---
Upon registration, you will receive a confirmation email from Eventbrite with important details of the session. This includes the exact meeting venue, directions, things to bring etc.
Please read our Terms and Conditions.
For enquiries, please email to xiunatureconnections@gmail. .