Tuesday Evening Meditation Course: Building Better Relationships
4-week meditation course on developing minds of patience, understanding and love to help heal and develop our relationships
About this Event
Tue: Feb 23, Mar 02, 09, 16 | 7.30pm - 8.45pm
"If everyone were to practise cherishing others, many of the major problems of the world would be solved in a few years." Venerable Geshe Kelsang Gyatso Rinpoche- How to Transform Your Life
To develop and enjoy good relationships in our life, we must learn acceptance and patience, and the difference between love and attachment. Pure love brings only good results and happiness, whereas attachment brings only problems.
In this series of classes, we will explore the difference between love and attachment and learn to engage in the profound Buddhist practices of loving-kindness. When our mind has the nature of love we naturally feel happy and peaceful. With such a state of mind, it is impossible to become disturbed or depressed or to develop anger or jealousy. In reality, pure love is a powerful force with which we can solve our daily problems, protect ourselves from suffering, and bring benefit to others.
-----------------------------------------------------------------------------
BOOK A 4-WEEK MEDITATION SERIES AT THE SPECIAL RATE OF $48
Book per class at the standard rate of $15 per person
(NOTE: This booking form is for our in-person Tue class or online class. If you wish to book for our in-person Wed class, please [CLICK HERE]
What to expect at a class:
10 min Intro
15 min Breathing Meditation
5 min Liberating Prayer
30 min Teaching
15 min Guided Meditation on teaching topic
Optional Q&A with Kelsang Rabka after class for those who wish to ask him questions
Online viewers:
Online classes are available to residents of Singapore.
You are able to watch the live-streamed class as it happens, or otherwise you're free to watch the class at any time within 7 days of the original broadcast.
You'll be sent the viewing link no later than 24 hours before the class takes place.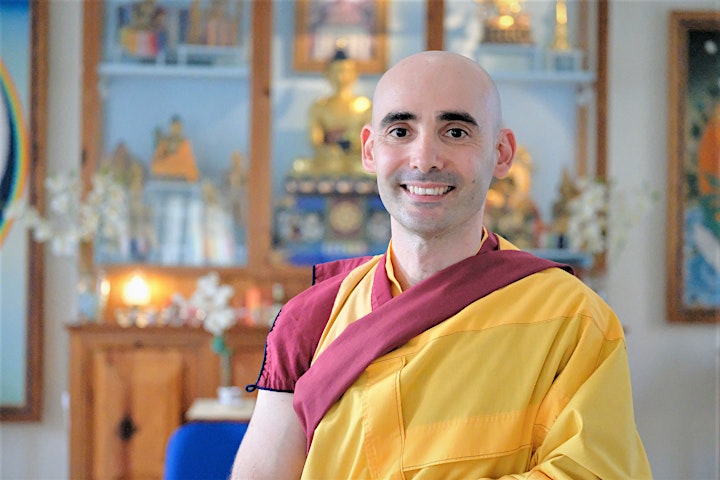 About the Teacher:
Kelsang Rabka was appointed as the Resident Teacher of KMC Singapore in mid 2020. He is an Australian Buddhist monk who has been studying and practicing Kadampa Buddhism with Venerable Geshe Kelsang Gyatso Rinpoche and his senior disciples for 13 years, and has taught both in Australia and the UK.
The clarity and warmth in his teachings has helped many students experience the practical benefits of modern Kadampa Buddhism in their daily lives.