Sales Have Ended
Ticket sales have ended
We're sorry, but due to popular demand, our ticket sale has ended.
Sales Have Ended
Ticket sales have ended
We're sorry, but due to popular demand, our ticket sale has ended.
About this Event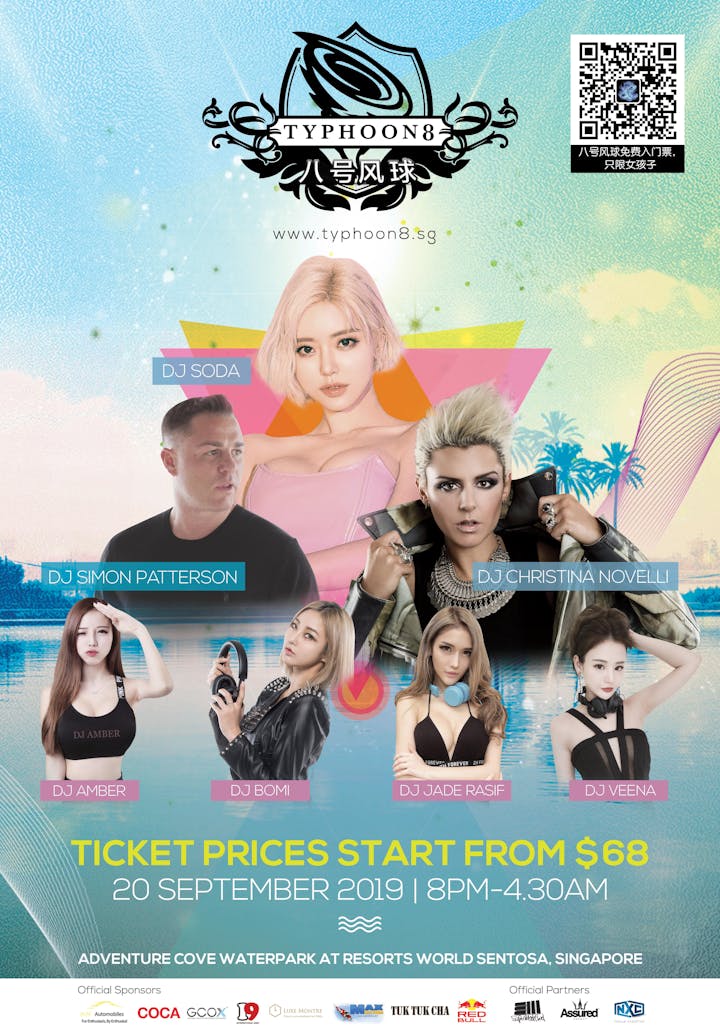 Note that online ticket sales has ended. Our at-the-door ticket sale is open at S$88 per pax before service fee. Each ticket comes with 2x Free (cups) housepour or beer. Ticket sale ends on 21 Sept 2019 3:00am.
Typhoon 8 introduces dance party aficionados to some of the best electronic music acts from DJs around the region and the world. Whether it's held right next to a giant waterpark, complete with sweeping waves to get beachwear party revellers (we call 'em Typhoonites) into the groove, or out in an open field under a beautiful night sky lit up by fireworks and neon lights, Typhoon 8 is all about bringing the party from the stage right down to the dancefloor.
Date: 20 September 2019
Location: Resorts World Sentosa's Adventure Cove Waterpark, Singapore
Time: 8:00pm - 4:30am
The inaugural Typhoon 8 dance party, with renowned DJs like DJ Soda (Korea), DJ Bomi (Korea), DJ Christina Novelli (UK), DJ Simon Patterson (UK), DJ Amber (Malaysia), DJ Jade (Singapore) and DJ Veena (Taiwan), will take place on 20 September 2019, 8pm - 4:30am at the Adventure Cove Waterpark on Sentosa Island, Singapore. This is a rain or shine event.
We expect to hold more Typhoon 8 events in the near future.
Whenever you share an image or video from a Typhoon8 event on your social media channels, don't forget to hashtag us with any of the following:
#Typhoon8Rave #DanceTillDawn #SoakInTheBeat #Typhoonites #Typhoonettes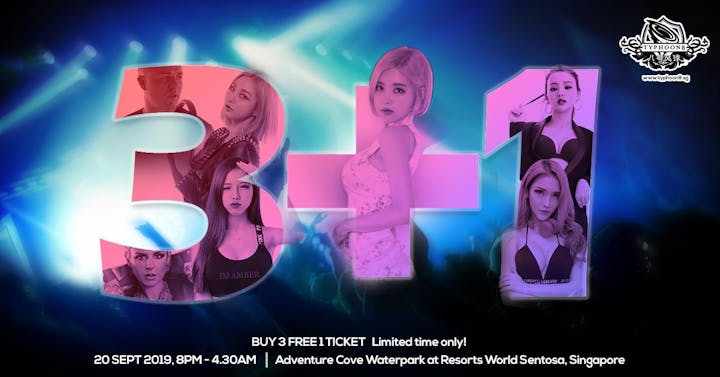 VENUE & SITE GUIDE:
Use the visual guide of Resorts World Sentosa's Adventure Cove Waterpark venue map to know where to go. Once you arrive at the Entrance into the Waterpark (denoted by the circle at the bottom right), make your way to the Bluwater Bay area (circle on the upper left), coz that's where Typhoon 8 EDM Rave party is happening!
The next visual guide is the actual site map of Typhoon 8 and dress code dos and don'ts. Navigate your way around the Bluwater Bay area so you'll know where to go and what to do when the DJs hit the spinning stage!
Event starts at 8:00pm on 20 September 2019.
If you've yet to get your tickets, get them now. General Admission tickets on sale NOW at a 3 + 1 at S$51 per pax! Single purchases are at a discounted S$68 (usual: $88).
Each General Admission ticket includes 2x FREE (cups) drinks of housepour or beer.
Don't forget to put on your A-game and bring your towels #Typhoonites and #Typhoonettes! See you there.