About this Event
This is a workshop built by non-designers for non-designers! 💻
Learn with Le Wagon, the world #1 top ranked coding bootcamp with offices in over than 40 cities, how to quickly build a set of icons, a logo, a newsletter banner or even a mockup for your app. We'll cover everything you need to know to build your graphical assets using the latest and coolest resources for the best pictures, icons, colours, fonts, and patterns. You will also get a general knowledge about standard UI components as well as designer tricks and secrets.
🌟What you will learn:
Use Sketch/Figma, which are popular graphical tools used in startups, to refine your icons, change their colour and shape, export them, and customise any assets (logo, icons, newsletter banner, etc.)
Discover UI components and how they are built.
Design tricks and tips: how to build a nice shadow? Add a filter to a cover pic? resize pictures with different proportions? Create masks? Etc.
Use Sketch/Figma to build your product mockup!
⚠️Pre-requisite:
No pre-requisite, this is a workshop for beginners
NEXT EVENTS:
For the list of all our next events, please access here: http://stayhomekeepgrowing.pt/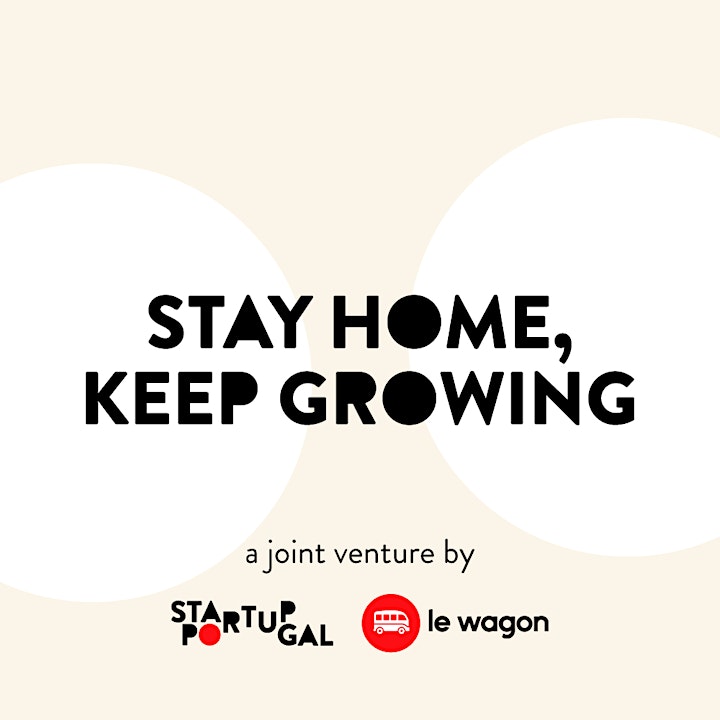 STAY HOME, KEEP GROWING
This is our motto for the next days. This partnership between Startup Portugal and Le Wagon aims to keep good content flowing, despite all the in-loco events being canceled due to the impact of the current, and governments asking us to stay home as much as we can.
Stay Home, Keep Growing offers periodic webinars, workshops and talks with different topics of interest to those who are part of this ecosystem, such as entrepreneurship, innovation and technology. All content will be spread through our partners live and free of charge.
This is not the time to be physically present at coworking spaces, associations, or innovation hubs. But it is the perfect time to make the most of your time home, the mind sane and businesses growing.
#stayhomekeepgrowing