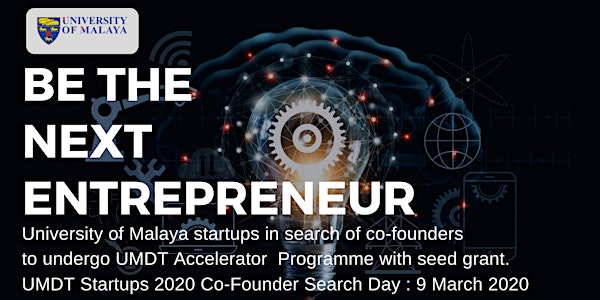 UM Startups Co-Founder Search Day
University of Malaya researchers will pitch their startup researched ideas in search of business co-founders with equity participation
When and where
Location
Auditorium, KPPI Building, Universiti Malaya Research Management & Innovation Complex, University of Malaya Research Management & Innovation Complex, University of Malaya Kuala Lumpur, Kuala Lumpur 50603 Malaysia
About this event
Introduction
University of Malaya (UM), a top-ranking University in Malaysia, renowned with its great education platform and innovative researched products. UM is eager to bring it's innovative researched products to market through startups. These selected startups are being initiated by UM researchers. However these researchers, who are academicians know their limitation in commercialising, bring to market, their own researched products. They need business co-founder(s) to lead and run the business portion of their startups. This is where UM Startups Co-Founder Search Day comes in.
Event
UMDT Startup Co-Founder Search Day is an event when researchers will pitch their startup researched ideas in search of business co-founders.
15-20 startup ideas with researchers looking for a business co-founder(s).
Startups ideas on medical devices, engineering products , aquaculture, AI, apps, green tech and others
No limit to the number of co-founders per startup.
An individual or a group of people.
No limit to the age as long as above the legal age to become a business partner.
It's NOT a criteria that the business co-founder has business experience. We believe experience is good to have but not primary importance in growing a startup.
Click this link to have an introductory view of the 15 - 20 startup ideas (https://umcic.um.edu.my/umdt-project-ideas-2020)
Lunch is provided 😊
Do subscribe to our Facebook page to view the live video feed of the event (https://www.facebook.com/TTO.UMCIC)
Itinerary
08.30 – 09.00 : Registration
09.00 – 09.30 : Welcome Remarks
09.30 – 10.30 : Pitching Session 1
10.30 – 11.00 : Refreshment & Networking
11.00 – 12.30 : Pitching Session 2
12.30 – 13.30 : Lunch & Networking
13.30 – 16.00 : Pitching Session 3
16.00 – 17.00 : High Tea & Networking
UMDT Accelerator Programme 2020
This event, UM Startups Co-founder Search Day, a precursor to UMDT Accelerator Programmer 2020. You can find further details of this programme at https://umcic.um.edu.my/umdt
In brief, the UMDT Accelerator Programme:
6 months structured and guided Market Validation Programme
RM50,000 grant per UM startup (T&C applies)
Equity sharing between UM researcher and the chosen business co-founder(s).
The startup companies under UMDT Accelerator Programme are private and independent Sdn Bhd from the University of Malaya. The direction and growth of the company is in the hands of the startup founders.
Are you in search of a innovative business idea?
Do join us.