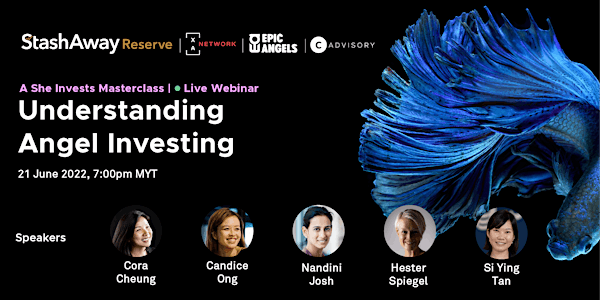 Understanding Angel Investing
We've invited Kaizenvest and C Advisory for a deep dive into Angel Investing. Join us to learn more about this exciting asset class.
About this event
Join us on this deep dive into Angel Investing and learn how you can get exposure to this exciting asset class with StashAway, Kaizenvest and C Advisory. We discuss Angel Investing opportunities and what to look out for when investing in early-stage startups. If you're curious about getting started in Angel Investing, or if you're a budding entrepreneur or an existing founder, we believe this session will give you new perspectives on raising funds in the start-up ecosystem in Southeast Asia.
The session will cover the following:
What is Angel Investing?
How to get exposure to Angel Investing opportunities
The time horizon and risk appetite required to become an angel investor
Personal anecdotes from our panelists on successful and unsuccessful angel investments they've made
Why HNW and Accredited Investors should consider Angel Investing
Panelists
Candice Ong, Chief Commercial Officer, ShopBack & Member of XA Network
Candice is currently the Chief Commercial Officer at ShopBack, a local start-up with presence in 10 markets that gives customers a percentage of their purchase money each time they make a transaction with its partner merchants. She was previously the Managing Director at the Zalora Group and managed teams across the region. Her other prior work experience includes investment banking at Credit Suisse in South East Asia and Barclays Capital in New York.
She is an active angel investor and a member of XA Network, a leading tech executives' investment network in Southeast Asia focused on fostering inclusive innovation by empowering the tech community in Southeast Asia. Candice also currently serves on the boards for Enterprise Singapore, Pick Network and ShopBack.
Hester Spiegel-van den Steenhoven, Venture Partner, Kaizenvest & Founder of Epic Angels
Hester is an investor and education entrepreneur. Before becoming an entrepreneur, she had a 15+ year international career with PriceWaterhouseCoopers and as a Director at Deutsche Bank in Amsterdam, London, and Frankfurt. She pivoted her career and became Germany's country head for a global EdTech company, bringing the modern education system and coding school "42" to Germany. Since moving to Singapore, she has worked as a venture partner at Kaizenvest, a SG-based VC firm focusing on learning innovations. She is also co-founder of Epic Angels, a women-owned angel investment network that aims to give women the confidence to invest; and a board advisor and mentor to start-up founders, with a focus on EdTech.
Cora Cheung, Founder & Managing Director, C Advisory
Cora has been helping MNCs and large regional corporates for over a decade before starting C Advisory. From designing cross-border transactions inbound and outbound Asia to managing M&A transactions valued at over USD 300 million, her pragmatic and creative approach has helped over 100 Startups, SMEs and Funds with their Capital Raising and Structuring needs. As an investor, she partners with VCs, Family Offices and fellow Angel Investors to source & research on interesting investment opportunities. Cora is a Singapore Chartered Accountant who majored in Adv. L.L.M (International Tax Law).
Nandini Joshi, COO, StashAway & Member of XA Network
Nandini is the COO at StashAway leading our international expansion, operations and Strategy.
After graduating in Computer Science from Universite Libre de Bruxelles in Belgium, she worked for Cisco Systems for 3 years before shifting her career to Louis Vuitton & emerging markets.
In the last 17 years, she has worked across Europe, the Middle East, India, SEA and Australia in Retail & Private Equity before joining Luxola.com as Head of Strategy. Luxola was acquired by Sephora where Nandini then helped build the leading omnichannel player in beauty in SEA-Pacific.
Nandini is a Licensed Representative with the Monetary Authority of Singapore for Asia Wealth Platform, the legal entity of StashAway.
Moderator
Si Ying Tan, Wealth Advisor, StashAway
Si Ying is a Wealth Advisor in the Singapore office, handling investment advisory for HNW clients. Previously, she led a team of 20 as a Client Engagement Team Lead at StashAway, serving clients in Singapore, Hong Kong and the UAE region.
Si Ying is a Licensed Representative with the Monetary Authority of Singapore for Asia Wealth Platform, the legal entity of StashAway.
About StashAway
StashAway is a digital wealth manager that offers investment portfolios and wealth management solutions for both retail and accredited investors and operates in Singapore, Malaysia, the Middle East and North Africa, Hong Kong, and Thailand.
As of January 2021, the company surpassed $1 billion USD in assets under management. It achieved this milestone faster than it took the world's largest digital wealth managers, Betterment and Wealthfront, to reach the same milestone. In 2020, StashAway was recognised as a Technology Pioneer by The World Economic Forum and a Top 10 LinkedIn Startup. In 2021, StashAway was awarded a spot in the Fintech Global's 2021 Wealthtech 100 list and won "Bronze" for the SG Techblazer Award in the Most Promising Innovation Category. StashAway won "1st Place" as Singapore Financial Institution SFF Global FinTech Awards 2021 presented by the Monetary Authority of Singapore (MAS) and the Singapore FinTech Association (SFA).
By registering for this event, you are deemed to have understood and consented to StashAway collecting your personal data that you directly input into the registration forms and contacting you thereafter in relation to our products, services, and events. We promise to send only the good stuff. However, if you ever wish to opt-out, you can easily unsubscribe using the Unsubscribe feature included in the emails. If you wish to know more about our Privacy Policy, you can visit our Privacy Policy page where the policy will apply mutatis mutandis to the event that you have registered for.