Description
Depression and anxiety in young people are on the rise. As parents and students, we need to know how to detect the symptoms and what interventions are available.


PROGRAM
6.00pm - Registration

6.45pm - Welcome by Mr Choo Chiau Beng, Chairman of the Board of Governors of Raffles Institution

6.55pm - Keynote: Depression and Anxiety In Our Young
Dr. Daniel Fung, President of International Association of Child & Adolescent Psychiatry & Chairman of Medical Board, IMH

7.25pm - Panel Forum and Q&A
Living With Anxiety & Depression As A Teenager
Pang Ly-Shan, depression survivor, Raffles Institution alumni
Losing My Son To Suicide
May Chng, Former Vice-Principal, suicide survivor
Applying Mindfulness To Overcome The Pains of Parenting
Adj. A/Prof Angie Chew, An Undefeated Mind Course @ NUS

Importance Of Aligning Parenting Strategies
Frank Singam, Senior Counsellor

9:30pm - Close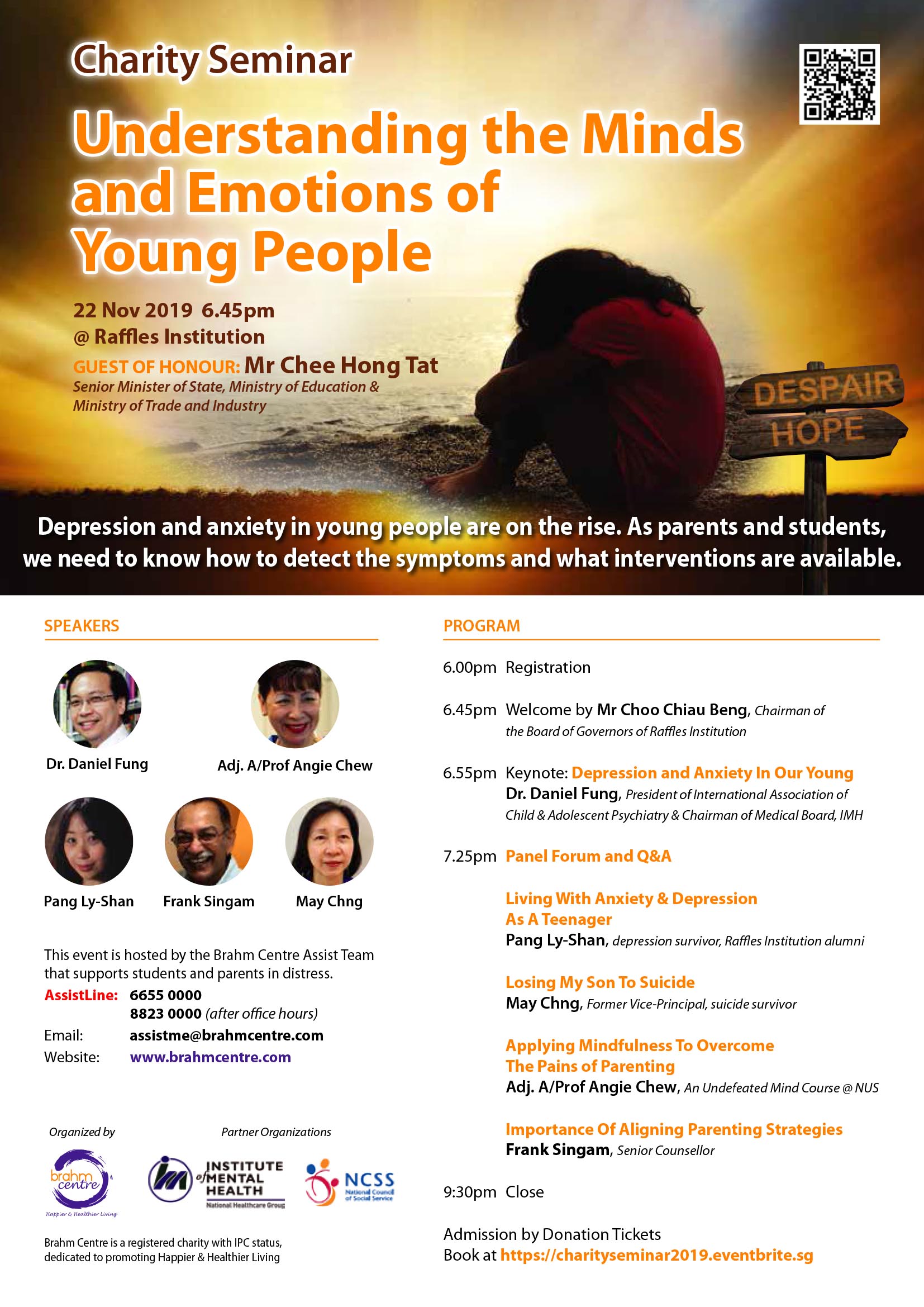 The tickets are 250% tax deductible. When booking, please enter your NRIC/FIN or UEN to enjoy the 250% tax benefit. These tickets are non-refundable.
Thank you for supporting this charity event - all proceeds will be dedicated to Brahm Centre Assistline to support students and parents in distress.
Anyone who needs a subsidy, please email info@brahmcentre.com. No one shall be denied a ticket because of affordability.