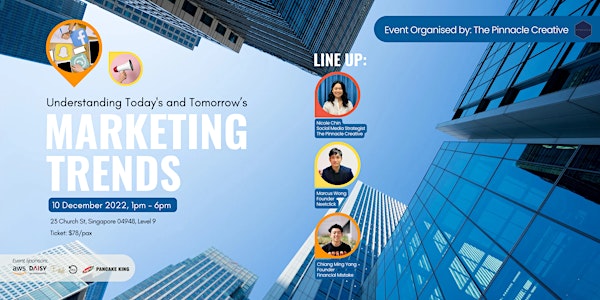 Understanding Today's & Tomorrow's Marketing Trends
Save thousands of dollars in marketing cost in 2023 by understanding what marketing trends are still relevant in 2023!
When and where
Location
23 Church St 23 Church Street Singapore, 049481 Singapore
About this event
Living in a fast paced, ever-changing environment. The only constant we have is change.
Have you recently noticed that your marketing efforts from before has been on a decline? For the same types of contents, budget allocated and mediums used you are reaping less results? That is absolutely true, and you are not alone!
Over the past couple of months, we have seen major changes made with more to come with announcements from mega companies like Meta & TikTok. These changes has had and will continue to have a direct impact on the your effectiveness of your marketing efforts. Ultimately, impacting your business.
For the very first time, The Pinnacle Creative, a creative marketing agency that specialises in branding especially on social media has put together an extensive panel of speakers. Each, experts in their own fields. They would be covering topics from social media strategies and changes to the social media landscape to changes in the type of photography and videography styles and also SEO insights.
In this one day exclusive seminar, expect to learn from marketing practitioners directly, getting valuable insights and tips of today's and tomorrow's marketing trends. This seminar might save you thousands of dollars in marketing cost in 2023.
What might give you an edge over your competition might just be found in this 5 hour seminar!
So hurry, seats are limited. Book yours now! Refreshments will be provided!
ABOUT OUR SPEAKERS
Nicole Chin - A social media strategist with The Pinnacle Creative, Nicole lives and breathes social media. From technical updates to trends Nicole knows it at the back of her palm. Given her interest in social media she is also the person behind her own TikTok channel focusing on sustainability as well as vintage fashion. She has amassed 57.4k followers with 2.2mil likes on her organic channel.
Marcus Wong - Founder of Neetclick a digital marketing agency that specialises in Search Engine Optimisation (SEO). His decade of experience in digital marketing has taken him from a freelancer all the way to a marketing director for a local tech firm. He has worked with local businesses like Boxgreen and iSwitch, to international companies like Brother and Dropbox.
Chiang Ming Yang - Founder of Financial Mistake. He has always had a passion for photography but never got the chance to go to Arts School. Determined, he self-taught himself by watching YouTube tutorial videos and international advertisements every day till this day. Over the years, he climbed up the ranks to finally be able to work on TV commercials. Some of his notable clients include Macdonald's, UOB, HSBC, Sony and Neutrogena. Ming Yang also helped to rebrand Mediacorp to what it is today.