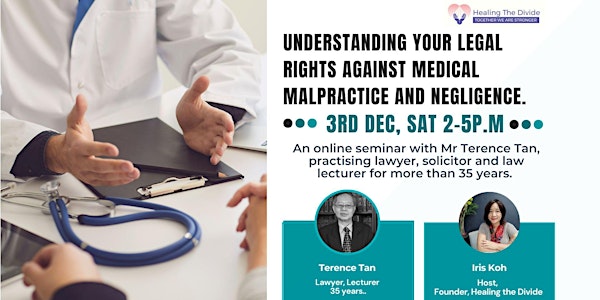 Understanding your legal rights against medical malpractice and negligence
Did you have an unhappy/ unfortunate interaction with your doctor/nurse / medical institute? Find out what legal recourse you have.
Refund Policy
Contact the organiser to request a refund.
Eventbrite's fee is nonrefundable.
About this event
Many people feel angry and helpless when faced with an unpleasant or unfortunate experience as a result of bad medical practice/negligence from their doctor or nurse. The thought of taking legal action could feel insurmountable as doctors usually have the backing of medical institutes which have huge financial resources.
This workshop is designed for the average patient who wishes to understand his / her legal rights so as to be better protected against medical malpractice and negligence by the doctor/nurse/medical institute sworn to protect you.
Unfortunately, sometimes mistakes are made and many patients continue to suffer in silence/helplessness, not knowing what to do for themselves or for their loved ones and how to move forward from their grief. Sometimes knowing what legal recourse you have could be a way to heal the pain of the incident.
In this workshop, we hope to share with you important legal points so you may consider what are the next best steps forward if you suffered harm as a result of bad advice/negligence from your doctor or nurses. You may consider either suing the doctor / medical institute or perhaps negotiations could be a better way forward.
Please note that failure to disclose potential risks is also considered negligence and you can do something about this!
There is a Special Segment for how those who are unvaccinated may want to protect your medical rights to have access to unvaccinated blood for operations, including autologous blood and starting our own blood bank registry.
We wish to thank our sponsor who has generously come forward to sponsor the trainer's fee for the workshop so we can give this workshop for free to benefit everyone.
But feel free to support us with a ticket for organizing and arranging this workshop for everyone.
Your support will go towards our legal fees and ongoing work at Healing the Divide. 
Thank you for your generosity. 
About the lecturer, Mr Terence Tan.
Mr Terence Tan was called to the bar in 1985. He has been a practicing lawyer, solicitor and law lecturer for more than 35 years. He brings with him a wealth of experience and knowledge in different fields. He conducted workshops in medical-related topics for SingHealth, NTUC Unity, Nursing homes and National Kidney Foundation.
He is also a legal trainer and examiner for those qualifying as chartered arbitrators, which includes doctors, engineers, accountants and architects.