| | |
| --- | --- |
| US Election: What should investors be looking out for? | |
Event Details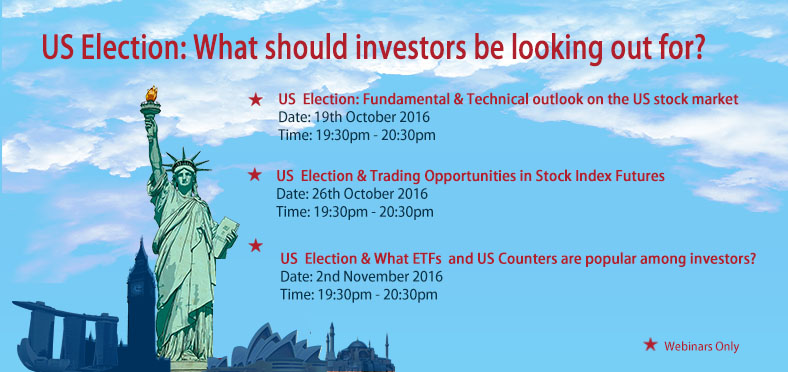 US Election: Fundamental & Technical outlook on the US stock market
Date: 19th October 2016, Wednesday
Time: 19:30 – 20:30
Seminar outline
The historical trend of the US Elections and stock market
Sectors affected by Clinton or Trump Presidency
Stock picks for US Elections
---
US Election & Trading Opportunities in Stock Index Futures
Date: 26th October 2016, Wednesday
Time: 19:30 – 20:30
In this seminar, we will uncover various recent developments in the US Presidential Elections space, and how these developments can translate into investment opportunities in equity index futures and currencies. We will also examine, analyse and interpret the conditional economic and investment impacts following the victory of each of the two major Presidential Candidates: Hillary Clinton and Donald Trump. Expect a diversity of opinions, lively discussions and sharing of insights from this seminar.
Seminar Outline
•             The Presidential Elections process
•             The Presidential Candidates and what they stand for
•             Current political power play in the US
•             The Clinton Impact on equity index futures and currencies
•             The Trump Impact on equity index futures and currencies
•             Trading the US Presidential Elections
---
US Election & What ETFs and US Counters are popular among investors?
Date: 02nd November 2016, Wednesday
Time: 19:30– 20:30
In this seminar, we will talk about various thematic themes, counters and Exchange Traded Funds (ETFs) that investors can look at during the US elections. We will also examine various tools and products investors can look at to help trade your view on the US elections.
Seminar outline
• Thematic themes for the US markets
• What ETFs is popular with investors trading the US markets
• Performance of sectors and counters in the US markets
Organiser
Since 1975, the PhillipCapital network has grown into an integrated Asian financial house with a global presence that offers a full range of quality and innovative services to retail and high net worth individuals, family offices, corporate and institutional customers.
Our comprehensive suite of financial products and services includes broking in securities, futures, foreign exchange, bonds, precious metals and commodities, unit trusts, contracts for difference, exchange traded funds; fund management, managed accounts,  insurance planning, regular savings plans, investment research, equity financing and property consultancy*. Institutions can also benefit from our corporate finance and advisory services as well as information technology solutions.
With more than 3,500 employees and over 1 million clients worldwide, our assets under custody/management totals to more than USD 30 Billion with shareholders' funds in excess of USD 1 Billion.
Why trade in global stocks?
Diversification enables you to invest in different stocks across the world and helps to minimize risk. Be intrigued by the vast opportunities offered by global trading. Start diversifying your portfolio with easy access to more than 20 global stock exchanges from Phillip Global Markets.
Why Phillip Global Markets?
Global Markets round the clock trading assistance
Global Trading made easy through POEMS Online Multi-Currencies
Custodian services to take care of your trade settlements and corporate actions
Headline News, Multi-Country Watch list, Advanced Charting Tools
Leverage using Margin Financing (Terms and conditions apply)
More than 23 global stock exchanges at your fingertips!
Asia Pacific
Singapore (SGX) . Malaysia (Bursa) . Hong Kong (HKEx) . Hong Kong Pre-IPO . Thailand (SET) . Indonesia (IDX) . Philippines (PSE) . Japan (TSE, JASDAQ) .Vietnam (HOSE, HNX) . South Korea (KSE) . Australia (ASX) . Taiwan (TWSE) . China (SZ-HK, SH-HK, SSE-B, SZSE-B)
North America
US (NASDAQ, NYSE-MKT, NYSE) . Canada (TSX)
Europe
UK (LSE) . Germany (Frankfurt Exchange) . France (Euronext Paris), Netherlands (Euronext Amsterdam), Portugal (Euronext Lisbon), Belgium (Euronext Brussels) . Turkey (Borsa Istanbul)