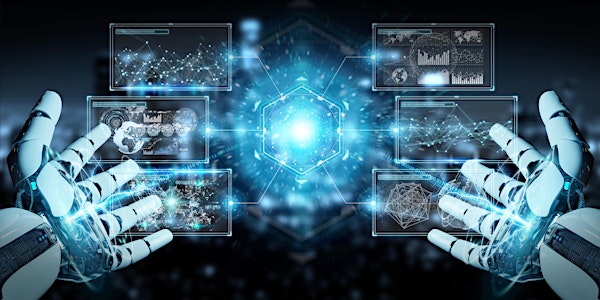 Utilising AI to Power Malaysia Smart Digital Economy & Financial Initiative
Malaysia Standard Time 8:55 AM-11:10 AM (GMT+08:00)
When and where
Location
Pulse Grande Hotel Jalan Putra Perdana Putrajaya, Wilayah Persekutuan Putrajaya 62000 Malaysia
About this event
The ability to expedite the most important mission to mitigate risk and build trust
The Malaysian government, led by Prime Minister Datuk Seri Ismail Sabri Yaakob, who also chairs the Digital Economy and Fourth Industrial Revolution (4IR) Council, is strongly advocating for more catalytic projects to complement the country's goal of becoming a regional leader in the digital economy by 2030.
The Malaysian government's interest in artificial intelligence (AI) to accelerate smart cities, digital finance, and smart communities is gaining traction and reflects a broader trend. From the perspective of financial institutions, a majority of financial services firms have already deployed AI, albeit primarily in risk management and revenue generation.
The emphasis on digital enhancement, particularly in government and financial institutions, is aimed at establishing stronger digital capabilities using 5G technology, which will be a reality in the future.
The recently announced national 4IR policy highlights the proposed smart city framework. The digitalisation of society and the economy is seen as critical to accelerating Malaysia's smart digital economy goals, as envisaged by Malaysia's Smart City Framework under the 12th Malaysia Plan 2021-2025, of which MyDIGITAL is a component.
According to the Malaysia Digital Blueprint, approximately 66% of internet users use mobile banking, with over 144 e-payment transactions per capita (2019), resulting in RM 16 billion eCommerce market value in Malaysia. It is clear that strengthening government and financial institutions to provide more secure digital services to the people is critical. 
To assist governments and financial institutions in achieving their smart digital economy goals, the risk and security of digital transactions can be managed and monitored using a combination of data engineering, machine learning, and decision intelligence. When used correctly, AI will be able to improve security, forecast future needs, and assist governments and financial institutions in achieving high levels of trust.
Grant intelligence analysis a speed boost and manage risk
Workloads can be made more efficient by leveraging advanced surveillance capabilities, such as targeting via AI-enabled geospatial analysis. Skilled analysts can spend more time understanding the most actionable data, events and insights that will drive decision-making with AI-augmented intelligence. This information will help governments and financial institutions to manage risk effectively.
Effective Analysis, interpretation and insight delivery enabled by AI
An intelligence community ensures that its teams can use artificial intelligence effectively and efficiently. This will bridge the gap between data collection and decision-making by improving the ability of decision-makers to interpret data.
Detect and defend against cybersecurity threats
Government and financial institutions can quickly analyse massive amounts of network and open-source data to identify advanced persistent threats, predict the presence of malware on the system, identify network threats and contribute to the enhancement of cyber defences to protect the security of intelligence systems and networks.
Ensure transparency to maintain trust in analysis and decision criteria
AI technology is as transparent as possible, allowing intelligence community algorithm or model owners access to the AI's underlying decision-making processes. Each rule contains a condition to be checked at prediction time and an action to be performed if the condition is met. AI provides agencies with real-time analysis and protection for predictions generated by any of the deployed models, making them more trustworthy.
OpenGov Asia is pleased to bring an exclusive OpenGov Breakfast Insight that aims to provide the latest information on how the public sector and financial institutions are using advanced AI and machine learning, to drive organisation mission outcomes. This is a closed-door, invitation-only, interactive session with Malaysia's public sector technology leaders.
This one-of-a-kind session will present real-time case studies on AI and machine learning advancements for Malaysia's public sector and financial institutions in:
MANAGING digital functions risk set by the government and financial institutions
UTILISING AI and machine learning to improve data analysis while adhering to AI governance
EXAMINING current technology that will improve the digital transformation in government and financial institutions to achieve the digital economy initiatives together
USING built-in expertise and automated guardrails to ensure that AI applications are compliant
FOCUSING the most recent AI tools to produce more robust, accurate, interpretable, and trustworthy data for decision-making and forecasting
PROVIDING accurate information, visualisations, and documentation that deliver deep insights that break out of the traditional 'black box' of machine learning
WORKING with a user-friendly platform that will assist in the increase of digital transactions
INTEGRATING with existing processes, workflows, and systems to ensure a smooth and easy transition
Who should attend:
Chief Information Officers
Chief Technology Officers
Chief Digital Officers
Chief Data Officers
Chief Transformation Officers
Chief Analytics Officers
Chief Risk Officers
Directors and Heads of Analytics and Information Management
Directors and Head of Data
Heads of Data Science
Heads of IT Operations
Heads of Machine Learning and AI