Description
Join two of Singapore's most well-loved storytellers Roger Jenkins and Sheila Wee for the first of a series of FREE performances at the Enabling Village. Come along for a delightful session of lively interactive tales, offering lots of story fun and participation for the whole family.
Suitable for 4 years and up.
Roger Jenkins is a Singaporean storyteller whose warm, spontaneous and comedic style makes him a popular choice in schools, libraries and community events. He has performed at Festivals and schools in Beijing, Shanghai, Saigon, Jakarta, Kuala Lumpur, Manila, Penang, Hong Kong, Bahrain and at the Edinburgh Festival Fringe. He is the founder of the 398.2 Storytelling Festival and a director of Story Connection and the Federation of Asian Storytellers.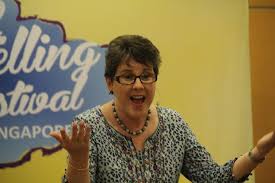 Sheila Wee is an international storyteller, storytelling teacher and storytelling activist with 20 years' experience. Because she pioneered and nurtured storytelling here, she has been described as a godmother of the Singapore storytelling revival. She is a founder member and former president of the Storytelling Association and a director of Story Connection and the Federation of Asian Storytellers.
Date: Saturday 4th May 2019
Time: 2.30pm to 3.30pm
Cost: Free of charge
Suitable for: Ages 4 and up
Venue: Hall 2, Ability Hub, ENABLING VILLAGE, 20 Lengkok Bahru, Singapore 159053
Access & Directions: The easiest way to reach The Enabling Village is by MRT to Redhill Station, which is just 5 minutes' walk from away The pedestrian entrances are along Lengkok Bahru and Redhill Road. If you're driving, the entrance is along Redhill Road. All entrances are accessible by wheelchair.
There are wheelchair-friendly parking lots in key parking areas.
Parking: Car parking is available at the Enabling Village. Visitors can enjoy complimentary one-hour parking. (1st entry per day only).
Map: For a map of the location and of the Enabling Village please see https://enablingvillage.sg/contact-us
This is the first in a series of free family storytelling performances at the ENABLING VILLAGE. Mark these date in your diary:
Saturday 29 June 2019 - 2.30pm to 3.30pm
Saturday 14 December - 2.30pm to 3.30pm
AND NOT FORGETTING our 3rd annual STORY CARNIVAL@ ENABLING VILLAGE on Saturday 7 September 2019 from10.30am to 5.30pm.
Community Partner

Supported by