Multiple dates
Virtual Escape Room Tournament: Escape Tournament Season 2
A Global Virtual Escape Room Tournament, with a focus on Singapore's culture. Find out more at https://www.avelivex.com/escape-tournament-s2
Date and time
Sat, 21 Aug 2021 06:00 - Sun, 22 Aug 2021 04:00 PDT
Refund Policy
Contact the organiser to request a refund.
Eventbrite's fee is nonrefundable.
About this event
General Information
About the Tournament
Escape Tournament is a series of virtual escape room tournaments organised by AveLIVEX. We welcome players to join in various group sizes and compete to finish the game with the highest points or the shortest time.
Our Season 1, which took place in June 2021, attracted 45 teams across the world to compete for the championship.
This Season 2, groups of 2 to 6 will be competing to solve AveLIVEX's latest virtual escape room and amazing race "The Lion City Quest". The game will last for around 1 hour.
Find out more about Season 2 at https://www.avelivex.com/escape-tournament-s2.
About "The Lion City Quest"
Legend has it that the Prince of Palembang of the Srivijaya Empire, who went by the name Sang Nila Utama, saw an island with shimmering white sands across the sea during his hunting trip. Curious, he asked his chief minister about it, and was told that it was called Temasek. Eager to explore the island, he returned to his ship and set sail.
En route to the island, a violent storm broke out, forcing him and his crew to throw out heavy items into the sea to keep the ship afloat. On the advice of the ship's captain, Sang Nila Utama threw his crown and other treasures overboard as a gift to appease and perhaps calm the Sea. Soon after, the storm cleared away and they arrived safely at the shores of Temasek.
While exploring the island, he spotted a creature that looked like a 'singha' ('lion' in Sanskrit). Believing it to be a good omen, the prince and his men stayed on the island and founded a city, renaming it Singapura (Lion City)
As Singapore flourished centuries after centuries, the tale of the lost treasures has also come to pass and become only a legend... Or is it?
In this Multi-Player, Multi-Perspective Escape Room and Amazing Race Game, you will get the chance to rediscover Singapore through the lens of our unique local characters (with their own "superpower"!) and work together to uncover the lost treasure of Sang Nila Utama. Highly interactive and fun game that will test your knowledge of Singapore culture and lifestyle!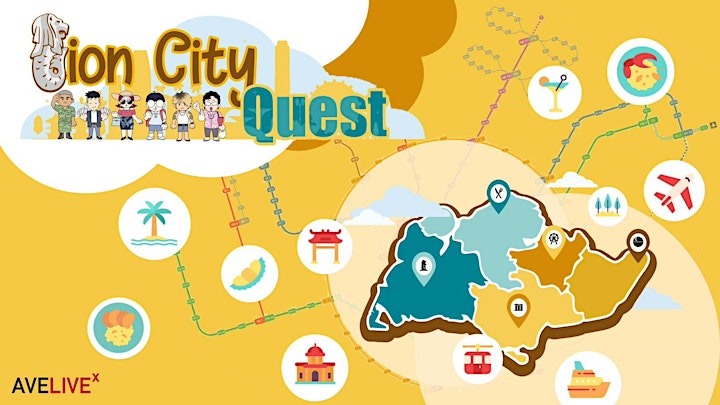 Registration
Groups may select 1 of the available 4 sessions to compete in the tournament:
21 AUG 2021 (SAT) 09:00 PM - 11:00 PM SGT
22 AUG 2021 (SUN) 10:00 AM - 12:00 PM SGT
22 AUG 2021 (SUN) 02:00 PM - 04:00 PM SGT
22 AUG 2021 (SUN) 05:00 PM - 07:00 PM SGT
Ticketing
This Season 2, we offer:
Early Bird Entry: Enjoy discounts when you sign up for the tournament by 7 AUG 2021
Standard Entry: Enter the tournament anytime from 8 AUG 2021 to 20 AUG 2021
Prizes & Winning Criteria
Grand Prize (Top Team): SGD 150 Cash Prize
Top 5 Teams: 1 FREE Session of Game Maniac Series Puzzle Hunts for your team, sponsored by Monster Day Tours. Find out more here.
Top 10 Teams: 10% OFF next season tournament entry
Criteria: Group that scores the highest points in the game. If the points are equal, the group that finishes the game at a shorter time will be prioritised.
Since there are multiple sessions, we will only be able to determine and announce the winners of the respective prizes after the end of the Tournament, and shall make an official announcement to all participants within 48 hours from the last offered Tournament slot.
About the Organiser
AveLIVEX is an Interactive Virtual Escape Room and Role-Playing Murder Mystery Game in Singapore. We pride ourselves in interesting storylines, high-quality puzzles and content, as well as curated unique designs and context visualisation.
Piloting the concept of multi-player, multi-perspectives escape room and murder mystery game play, we aim to provide an interactive playground for teams to come closer to collaborate, share enjoyable moments and foster camaraderie.
We have successfully hosted various remote cross-region team building sessions for multiple global established brands.
Find out more about AveLIVEX here.
Contact Us
Get in touch with us if you have any question about the tournament: avelivex@avenevv.com
For FAQ, Terms & Conditions and Code of Conduct, please refer here.