Virtual Grill or Chill Borneo Edition #July 2021
Grill or Chill (GoC) Do you have a unique idea?
About this event
Grill or Chill (GoC) is a monthly pitching platform for startups to showcase their products and services and receive valuable feedback from industry experts within the entrepreneurship ecosystem. GoC attendees have the opportunity to network with other entrepreneurs and industry partners in a casual atmosphere.
These are the names of our business pitcher for our event tomorrow. Do support them.
1) Syaiffudin bin Salleh | Education content | Business name/brand: Interactive PowerPoint game
2) Mohd Aizat Nazmi bin Samsudin | Website for athlete | Business name/brand : GoRecruit
3) Zairul Aziff Pian bin Muhammed Firdaus Pian Mut | e-business card |Business name/brand : e-beez
4) Vong Jiar Yu | Computer Services | Business name/brand: V&V IT Services
5) Milton Bruen | Photography Services | Business name/brand: Bloom Photo
Our Griller:
1. Hanizam Hashim, CEO/Managing Director (Hornbill Networks Consortium Sdn Bhd)
2. Herlina Khamisiah Sauli, Strategic & Operation Adviser (Rheaco Resources Sdn Bhd)
3. Representative Council from Sarawak Entrepreneur Association (SEA)
Agenda:
09.25 am: Registration and allow participants to join via zoom
09.30 am: GRILLing or CHILLing session starts
10.45 am: 5 minutes Sharing session by Grillers
11.00 am: Networking via Zoom Chat
11.30 am: End
How it works:
-Each startup will be 'grilled' for 10 minutes:
-5 minutes - To showcase their product/service
-Five minutes - Grilling session by 'grillers.'
Link: Will provided after registration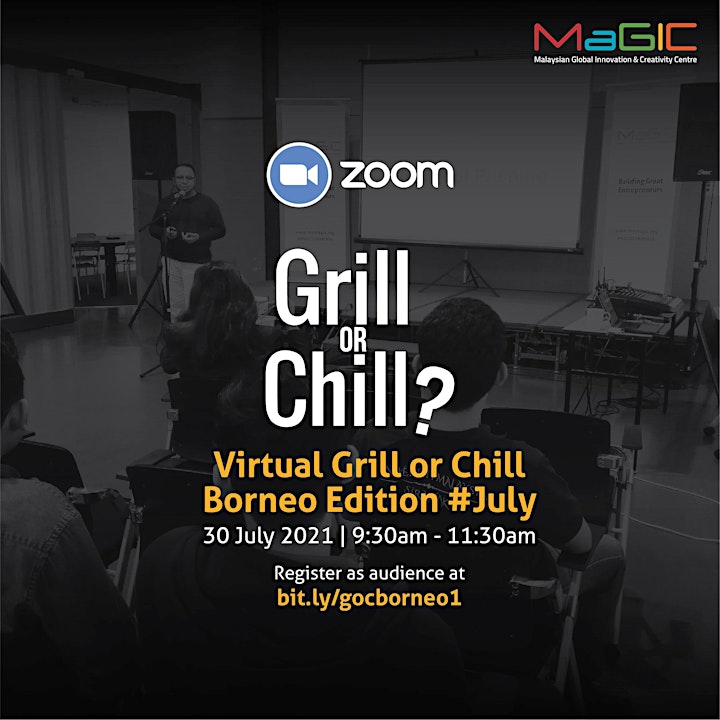 Organizer of Virtual Grill or Chill Borneo Edition #July 2021