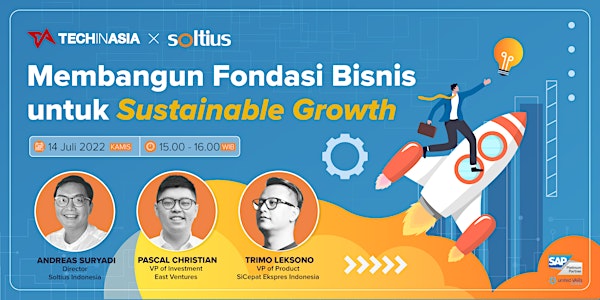 [Virtual] Membangun Fondasi Bisnis untuk Sustainable Growth
Pelajari cara bangun fondasi bisnis dengan strategi dan tools yang tepat untuk mencapai sustainable growth.
About this event
Pertumbuhan adalah satu kata kunci yang dikejar oleh perusahaan. Namun sebagai pelaku bisnis dan profesional, kamu tahu persis bahwa pertumbuhan yang baik tidaklah cukup. Bisnis kamu perlu berumur panjang. Tidak ada gunanya tumbuh dengan cepat tetapi kemudian mati secara perlahan atau mengalami stagnasi.
Menurut hasil studi bersama oleh Kauffman Foundation dan majalah Inc., sekitar dua pertiga dari bisnis yang tumbuh paling cepat akhirnya gagal. Studi ini dilakukan terhadap perusahaan lima sampai delapan tahun setelah kemunculan mereka dalam daftar 5.000 perusahaan dengan pertumbuhan tercepat di majalah tersebut.
Dalam konteks pertumbuhan bisnis, sustainable growth adalah pertumbuhan realistis yang dapat dikelola dan dipertahankan perusahaan dengan arus kas yang tersedia tanpa mengalami masalah. Sustainable growth penting bagi perusahaan di bidang apa pun. Perusahaan yang tidak berhasil mencapai sustainable growth akan berisiko menambah utang, mandek bahkan yang terburuk berhenti beroperasi.
Sustainable growth adalah tentang perencanaan masa depan. Dibutuhkan strategi dan tools yang tepat untuk bisa membangun fondasi bisnis yang kokoh demi mencapainya. Tujuannya bukan hanya untuk mendapatkan pendapatan yang lebih besar tetapi memungkinkan menciptakan produk unggulan yang konsisten, menjangkau pasar baru serta ekspansi dalam jangka panjang.
Dalam sesi virtual event kali ini, kami bersama Soltius Indonesia menghadirkan para praktisi ;
Trimo Leksono - VP of Product, SiCepat Ekspres Indonesia
Andreas Suryadi - Director, Soltius Indonesia
Pascal Christian - VP of Investment, East Ventures
Mereka akan membahas mengenai:
Apa itu sustainable growth dan mengapa itu penting?
Apa saja hambatan dalam mencapai sustainable growth?
Metrik yang dibutuhkan dalam mengukur sustainable growth dan bagaimana cara menggunakan metrik tersebut sebagai panduan/pegangan bisnis untuk membangun strategi menuju sustainable growth
Dari sudut pandang VC kesiapan apa saja yang biasanya dilihat dalam proses penilaian sebuah perusahaan untuk bisa mendapatkan investasi
Seberapa penting proses operasional sebuah perusahaan terhadap strategi untuk mencapai sustainable growth?
Sharing pengalaman growth story dari SiCepat di Indonesia
Bagaimana mencari partner solusi & teknologi yang tepat dalam mengotomatisasi proses bisnis untuk membangun fondasi mencapai sustainable growth
◤ Acara diselenggarakan secara GRATIS dan terbatas. Yuk, segera daftarkan dirimu hari ini! ◢
___________________________________________
Acara ini diselenggarakan oleh Tech in Asia Studios bersama dengan Soltius.
Cari tahu lebih lanjut mengenai bermitra dengan Tech in Asia Studios untuk terhubung dengan komunitas teknologi di Asia.