Description
Enjoy these bonus perks EXCLUSIVELY for event attendees!
• RECEIVE A BOTTLE OF CANBERRA'S WINE when you book any of our Canberra Package
• RECEIVE A$30 ONA Coffee Voucher per adult when you book any of our Canberra Package

Click here for our Canberra package!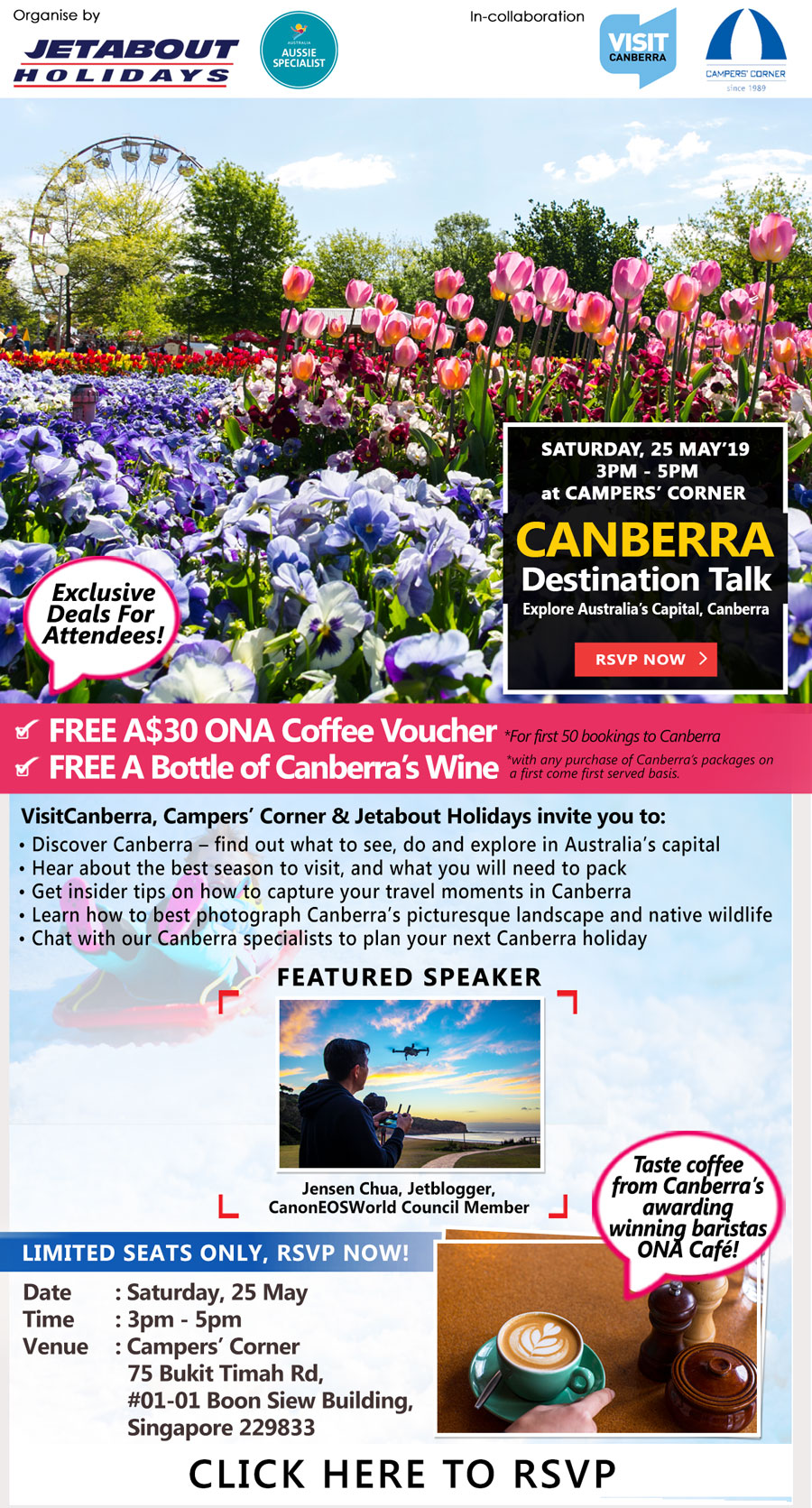 VisitCanberra, Campers' Corner & Jetabout Holidays invite you to get the To-Do's and Why Canberra has to be at the top of your travel bucket-list!
• Discover Canberra – find out what to see, do and explore in Australia's capital
• Hear about the best season to visit, and what you will need to pack
• Get insider tips on how to capture your travel moments in Canberra
• Learn how to best photograph Canberra's picturesque landscape and native wildlife
• Chat with our Canberra specialists to plan your next Canberra holiday
Jensen Chua Profile
Jensen Chua is currently an associate instructor at Canon Imaging Academy and an EOSWorld Council Member. One of his photographic awards includes – Singapore Garden Photographer of the Year 2015 (National Parks Board), People & Nature category – Top 10 award. He regularly conducts photo workshops for schools in macro and food photography. Since early 2016, he also travelled worldwide extensively after being appointed by Jetabout Holidays as their travel photographer and writer. Jensen likens himself as a pixels predator constantly on the prowl, cause his best shots are his next ones. These are the passion and philosophies that he brings to his work as a travel photographer, macro, nature, sports, food, journalism and more.