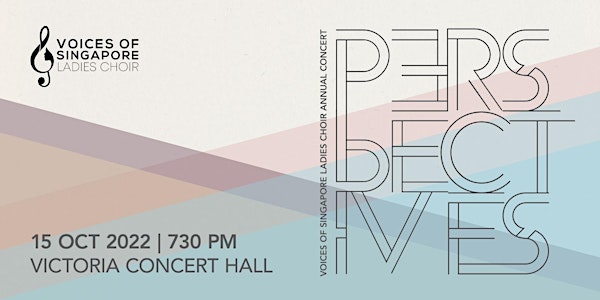 VOS Ladies Choir Presents: Perspectives
The Voices of Singapore Ladies Choir presents its annual concert in 2022, titled "Perspectives"
When and where
Location
Victoria Concert Hall 11 Empress Place Singapore, 179558 Singapore
About this event
The Voices of Singapore Ladies Choir (VSL) presents its 7th annual concert, conducted by Darius Lim. Come join us for "Perspectives", see the world with a different lens, and allow our spirits to be lifted in that special way that music does for us. From Renaissance sacred works to contemporary songs of peace and hope, be treated to an experience of ethereal music.
Saturday, 15 October 2022, 7.30 pm at Victoria Concert Hall
Approx 90 minutes, with no intermission.
Performers
Voices of Singapore Ladies Choir
Conductor: Darius Lim
Piano: Joyce Lim
Programme
Exultate Justi by Lodovico Grossi da Viadana
Ave Maria by Gustav Holst
Musica Aeterna by Lorenz Maierhofer
Even When He Is Silent by Kim André Arnesen
The Night of Rainbows by Darius Lim
O Antiqui Sancti by Hildegard von Bingen, arr. Michael Engelhardt
Didn't My Lord Deliver Daniel arr. Moses Hogan
I Thank You God by Gwyneth Walker
Infinity by Ola Gjeilo (Commissioned by Voices of Singapore)
Fly Me To The Moon by Bart Howard, arr. Nicholas Hare
Imagine by John Lennon
*Programme subject to change
Getting to the Venue
Victoria Concert Hall is located at 11 Empress Pl, #01-02, Singapore 179558
Vaccination Requirements
As announced by the Ministry of Health on 7 October 2022, Vaccination Differentiated Safe Management Measures will be stepped down from 10 October 2022. As such, events with more than 500 audience members will no longer have requirements for vaccination.
Safe Management Advisory
Mask-wearing will be optional.
Age Limit
Admission for audience aged 6 years and above (no admission for infants-in-arms). Admission is subject to valid tickets produced at the entrance.
Late Seating Advisory
For the enjoyment of all audience members, all events start promptly at the time printed on the ticket. Please be seated 10 minutes before the performance start time. Late admission may only be permitted during a suitable pause.
Photography & Videography
Non-flash photography and videography is permitted. In consideration of other audience members, tripods and selfie sticks are not allowed.
Refund/Cancellation Policy
Tickets sold are non-refundable. A full refund will only be issued to all ticket holders in the event of a performance cancellation due to COVID-19 or other unforeseen circumstances. The Eventbrite fee may not be refundable.
Accessibility
Victoria Concert Hall is accessible to persons in wheelchairs with designated seats reserved. Please get in touch with us at contact@voicesofsingapore prior to the show, and we'll be glad to assist at the venue.
About the VOS Ladies Choir
Voices of Singapore Ladies Choir (VSL) consists of semi-professional singers, musicians, teachers, as well as passionate amateurs who are eager to discover new experiences through music-making and develop a deeper understanding of the nation's cultural heritage.
Formally founded in 2014 as VOCO Singapore Ladies Choir by Artistic Director Darius Lim, they are the first independent all-female choir in Singapore. The choir has performed with Philomela (Finland), University of London Chamber Choir, The Coronation Singers, and numerous other ensembles.
In June 2016, the choir embarked on their first international European tour, giving concerts in Amsterdam, Krakow, London (England), Great Rissington and Cardiff (Wales). During the tour, the choir was awarded the 2nd Prize in the Chamber Choir category of the 2016 Cracovia Cantans International Choir Competition in Krakow, Poland. The choir most recently received the Gold award at the 2021 World Choir Festival.
The choir joined the Voices of Singapore Choral Society at its inception in 2019 and was renamed Voices of Singapore Ladies Choir.
About Voices of Singapore
Founded in 2019, Voices of Singapore (VOS) is the nation's largest singing organisation with over 20 programmes ranging from award-winning choirs to community programmes. As an arts charity, VOS's vision is to "Inspire a Singing Singapore", and conducts both local and global community impact programmes that aim to empower and inspire everyone to sing, create, learn and experience through choral participation.
In addition, VOS also aims to make choral singing accessible to people from all walks of life. Currently, VOS aims to achieve its vision and goals through two main pillars, namely, VOS Communities and our State Choirs.
Acknowledgements
We would like to thank VOS Corporate Patron Perennial Holdings Private Limited, National Arts Council, and our generous private donors for their support of this concert.
Venue Partner
Victoria Concert Hall, managed by Arts House Limited
Email Voices of Singapore at contact@voicesofsingapore.com for any queries.