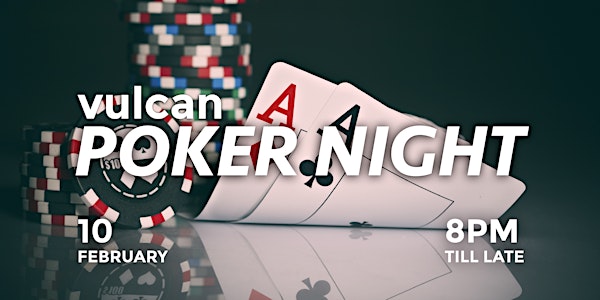 Vulcan Poker Night
When and where
Location
Vulcan Post HQ 60 Anson Road, Mapletree Anson 07-01 Singapore, 079914 Singapore
Description
CALLING ALL STARTUP FOUNDERS and ENTREPRENEURS!
In the spirit of Chinese New Year, put on your best Poker Face and join us at Vulcan Post's first ever Private Poker Night as we kick off the year of the rooster.

Take part in a special Poker Tournament, seize the opportunity to meet and interact with top VCs in Singapore and get a chance to bring home a trophy as the last man (or woman) standing.
What better way to welcome the year of the rooster?
PRICING
The entry fee is the ONLY thing you pay to play. The game itself will not be played with money.
Also note that there are no re-buys for this event. Once you're out of chips at the tables, feel free to hang out, mingle around, and get to know our team too!
EARLY BIRD SPECIAL: $20 (Grab your tickets by 3rd Feb 2017)
Standard tickets: $25
At the door: $30
WHAT YOU GET
Poker Chips
1 customised drink (House Pour from $5)
1 bowl of snacks
IN ATTENDANCE
(MORE EXCITING NAMES TO COME)
VCs:

Arnaud Renoux - Global Venture Developer at Asia Pacific Internet Group
Bennett Lee - Associate at Golden Equator Capital
David Z Wang - Managing Director at DZW Capital
Dennis Goh - Partner at Wavemaker
Giulo Rossano - Global Venture Developer at Asia Pacific Internet Group
Kyrre Lund - Managing Director at Vanir Investment
Quentin Vanoekel - CFO, MC Payment
Takashi Sano - Partner at Global Brain
Vincent Ha - Co-Founder, Gushcloud & Chief Strategy Officer, Yello Digital Marketing Global
Entrepreneurs & Startup Founders:

Alvin Seo - Social Impact Accelerator, Singtel Innov8 Ventures
Althea Lim - Co-Founder, Gushcloud
Aloysius Chay - Bay & Chay Pte Ltd
Alphonso Ngiam - Co-Founder, The Minimalist Brand
Alvin Ng - Manager, SIT Enterprise & Innovation Hub
Azmul Haque - Managing Director, Collyer Law
Barry Han - Business Development Director, Reign Global Pte Ltd
Charlotte Liu - Founder, Didici
Daniel Lim - Founder, The Playbook Asia
David Moskowitz - CEO and Co-Founder, Attores - Smart Contracts
Debra Pang - Chug
Deddy Tan - Dreamsmart Solutions
Dhinesh Dayani - Co-Founder, Dollars and Sense
Eileen Lee - Dreamsmart Solutions
Erik Lorenz - Founder, HeyMeet
Erwin Ng - Chug
Eugene Ng - Chug
Eugene Goh - Entrepreneur, Freeboh
Evelyn Zhao - Community & Member Experience, Spacemob.co
Goh Bing Han - Co-Founder, Vulcan Post, Prrt.co
Guo Jun Ang - Director, Baccar Technologies
Harry Fu - You Technologies Group
Hitesh Ramchandani - Founder, Better Than Normal
Ho Jun Yi - Co-Founder, Team Abyssus
Hiroyuki Kiga - Co-Founder, Wallex Technologies
Lola Liu - Founder, Visual Arts Centre
Jackie Ho - Managing Director, Reign Global
Jacky Yap - Founder, Vulcan Post
Jean Frederic Thomas - CFO, Popety
Jeremy Teo - Co-Founder, That Convenience Store
Juan Camilo Paredes Delgado - Founder, CaterSpot
Jonathan Ivarsson - Founder, Zeguestlist
Kean Tong - Founder, Kirona Scents
Kenneth Ho - Regional Manager, Reign Global
Kiren Tanna - Founder, ZEN Rooms
Lawrence Linker - CEP, MBA Link
Lumpur Kuo - Assistant Manager at Grab
Michael Chaille - CEO, Popety
Mike Chen - Product Design Leader, Zendesk
Ng Chin Leng - Director, Tian Dot Com Pte Ltd
Rembert Meyer-Rochow - Autodesk Inc
Titan Lee - Greyhat Growth Hacker, Tech In Asia
Thibault Clement - CTO, Popety
Shaun Heng - CEO, Eatsy
Shaz AG - Founder, Millennials of Singapore
Sian-Ee Goh - Founder, Prufen Pte. Ltd
Silvia Paredes - CaterSpot
Soon Kon Chun - Founder, Innogency
Spencer Yang - CEO, KeyReply
Timothy Ho - Co-Founder, Dollars and Sense
Vicky Vaswani - CEO, Better Than Normal
Xenon Tan - Founder, FameUp
Yew Keong Kang - Directer, KPMG
Yuk Lun Chan - Founder, SingaporeLegalAdvice.com


Team
Aboo - Gushcloud
Anmol - Vulcan Post, Millennials of Singapore
Azrul Abas - Gushcloud
Faye - Gushcloud
Kapie - Gushcloud
Melissa Chan - Vulcan Post
Mei Yan - DiscoverSG, Millennials of Singapore
Natasha Azman - DiscoverSG
Rachel - Gushcloud
Samantha Tay - Vulcan Post
Stacey - Millennials of Singapore