WAIC 2021 International Webinar: Co-Shaping our Sustainable Future with AI
World Artificial Intelligence Conference WAIC 2021 International Webinar Date: June 22, 2021 Time: 730-900pm UTC+8 Shanghai |Singapore
About this event
The origin of AI can be traced back to the early days when classical philosophers attempted to understand and describe human thinking as a symbolic system. It was in 1956 at Dartmouth College workshop that John McCarthy, Marvin Minsky, and other fellow scientists where the term "artificial intelligence" was eventually coined. AI has since gone through multiple waves of research and industrialization since 1970s with the knowledge-based approach with symbolic reasoning, logic-based system, rule-based expert system followed by recent breakthroughs with data-driven approach with machine learning and neural network-based deep learning.
As AI has and will have major impact across all industries, it will bring great benefits to humankind in terms of efficiency via automation. On the other hand, with the inherent nature of AI algorithms and models that may not be fully explainable and great computing power to learn from humongous data, there are valid concerns about how the technology are being applied and will be applied and their implications on humanity and society. It is thus vital that we take a sustainable approach for the next phase of AI development to ensure that AI is sustainable in terms of its science and technology evolution, its commercial viability and its impact on society and humankind.
The purpose of this WAIC 2021 International Webinar is to put together an international panel of experts from all the world to share and have an open dialogue on how to co-shape our sustainable future with AI. This could include compelling topics such as next generation AI design, ethical use of AI with necessary risk management practices and regulatory policies and accelerated use of AI to solve existential crisis for climate change etc.
WAIC 2021 International Webinar is our pre-conference online event held on June 22, 2021 as a warm-up to WAIC 2021 in July with the focus on global outreach to the international communities.
The purpose is to bring together global AI thought leaders from all over the world to initiate an open dialogue on identifying some of the relevant and compelling areas of AI that will shape our future. This could include AI research, technology, applications, ethics, governance, risk management and impact on society and humanity.
World Artificial Intelligence Conference (WAIC) is the most spectacular and biggest AI conference in the world that has been hosted in Shanghai annually for 3 consecutive years since 2018.
WAIC 2021 will again be held from July 7-10, 2021. It will be a four-day event that features forums, exhibitions, competitions, and signing ceremonies with exciting and impactful speeches by AI thought leaders and Turing award winners.
Learn more about WAIC 2021 officially below:
WAIC Website: https://www.worldaic.com.cn/
WAIC LinkedIn: https://www.linkedin.com/company/world-artificial-intelligence-conference
WAIC LinkedIn Community: https://www.linkedin.com/groups/9055281/
Our specially curated panel of distinguished speakers are:
Dr. Francesca Rossi
IBM AI Ethics Global Leader, AAAI Next President, IBM Fellow, AAAI Fellow, EurAI Fellow
Profile: https://www.linkedin.com/in/francesca-rossi-34b8b95
Dr. Otthein Herzog
AI Professor, Universitaet Bremen & Tongji University, Fellow of acatech – National German Academy of Science and Engineering
Profile: http://www.informatik.uni-bremen.de/~oherzog/home.html
Dr. Ong Yew Soon
Chief AI Scientist of Singapore Agency for Science, Technology & Research (A*STAR), NTU Chair Professor, IEEE Fellow
Profile: https://www.a-star.edu.sg/About-A-STAR/corporate-profile/people/professor-ong-yew-soon
Mr. Tian Feng
Dean, SenseTime Intelligent Industry Research Institute, Former Founding Dean of Alibaba Cloud Research Institute
Profile: https://www.linkedin.com/in/feng-tian-098b521a
Moderated by:
Dr. James Ong
Managing Director, Artificial Intelligence International Institute (AIII), Singapore SUTD Adjunct Professor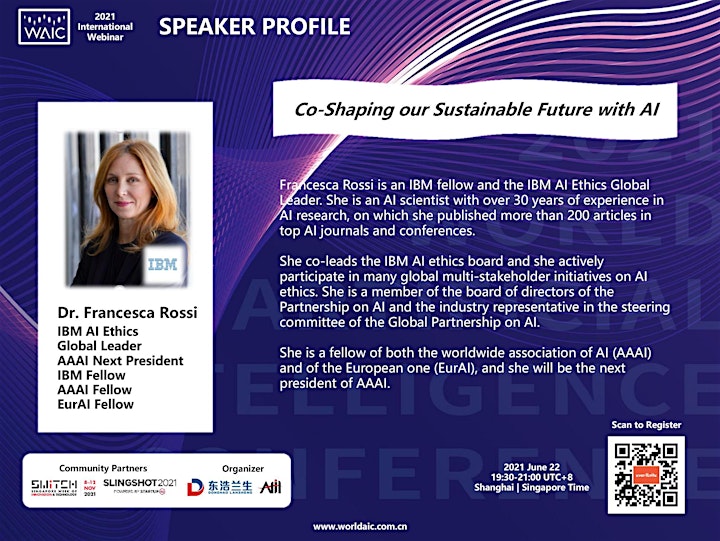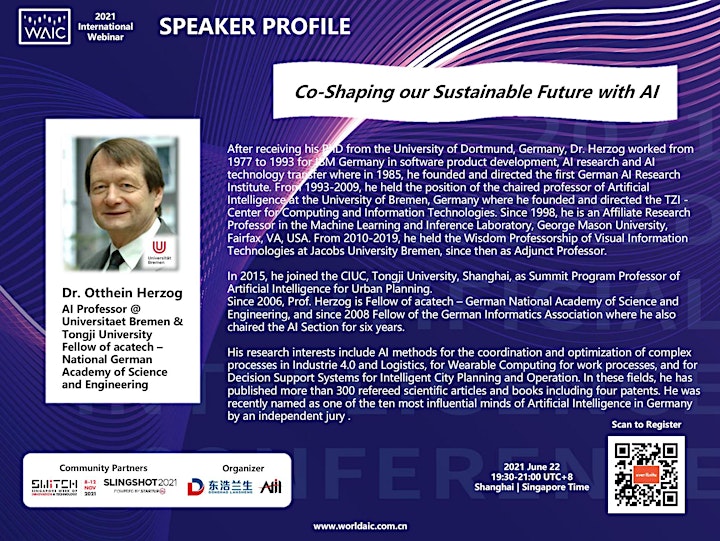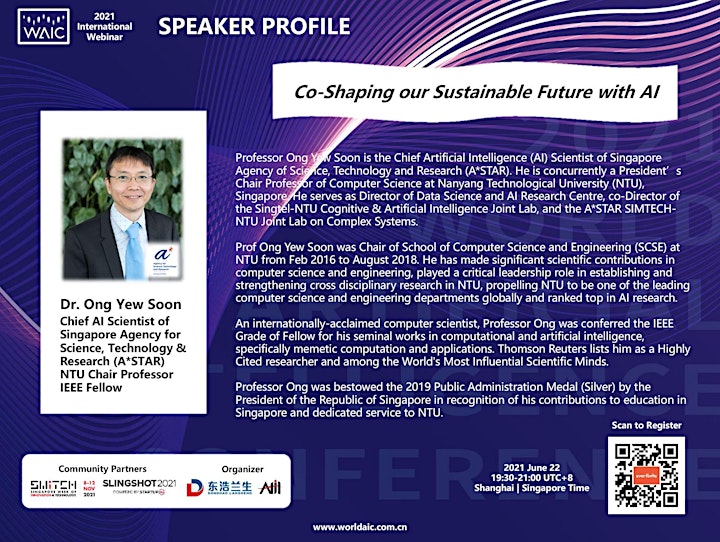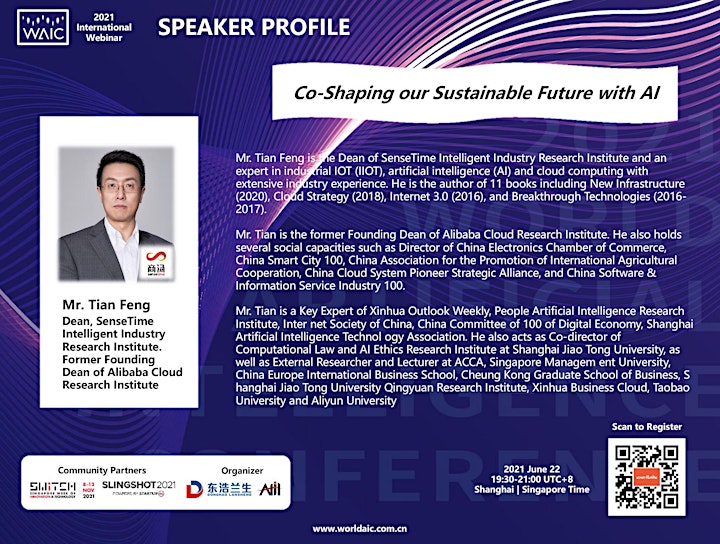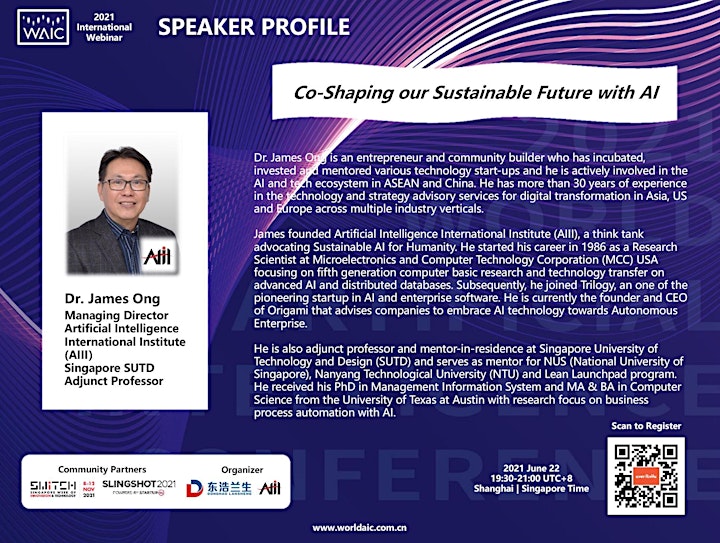 About Organizer:
Headquartered in Shanghai, EBLS (Donghao Lansheng) Group Co. Ltd is a leading enterprise in contemporary service industry in China. It ranks 129th among China's Top 500 enterprises, 54th among China's Top 500 service enterprises, 27th among the Top 100 Companies in the Yangtze River Delta, and 10th among China's Top 100 Service Companies.
In 2020, the Group's primary credit rating and debt rating were all upgraded to AAA. It serves 3 million employees from over 50,000 businesses with professional and efficient services. Exhibition organizing, pavilion management, conference and event services, and exhibition services are all part of the Group's Exhibition & Events Service. One of its brands, called DLG EXPO, has also been approved as one of the first batches of "Shanghai brands" among Fortune 500 firms that have established a presence in China.
EBLS has great capability and resources in both domestic and foreign markets, contributing to Shanghai's endeavor of becoming a "highland for international talents", an "international exhibition capital", and an "international trade center".
Website: https://www.ebls-group.com/en/
About Organizer:
Artificial Intelligence International Institute (AIII) is an AI think tank that advocates the vision of Sustainable AI for Humanity, balancing economic needs, autonomy, governance, and ethics.
We firmly believe that great thought leadership derives from open and transparent communication, interactions and collaboration. We encourage X-collaboration across multiple dimensions including cross-disciplinary and domain, cross-cultural and cross-border.
Learn more about AIII below:
Website: https://www.aiii.global
LinkedIn: https://www.linkedin.com/company/ai-ii
LinkedIn Community: https://www.linkedin.com/groups/9053369/
Email: contact@aiii.global
Organizer of WAIC 2021 International Webinar: Co-Shaping our Sustainable Future with AI