Walking through the spots in Jakarta where Freemasons have left its marked and how the history how they entered and impacted Indonesia.
About this event
Did you know? In the Dutch East Indies Era, especially in Batavia ( the old names of Jakarta), there was a track record of secret organisation that is also the oldest fraternal organisation in the world and allegedly wanted to rule the world and createa new world order.
Maybe many of us don't know that Freemasons had been in Indonesia, because it never appear in our history lessons. It was the Dutch who brought Freemasonry to the Indies, so that Freemasonry could develop. These teachings made several important figures in the history of the Indonesian independence movement join this society.
In this tour, we will walk through places that have a correlation with Freemasons and will find various symbols that are still emblazoned in the Taman Prasasti Museum, one of the oldest modern burial complexes in the world.
This walking tour is carried out by conducting the health protocols by limiting the number of participants, must wear masks and maintain physical distancing between participants.
Route of the tour (3 hours walking tour; around 6 kms):
- Meet & greet with our guide at in front of Kantor Pos Filateli Jakarta
- Ex- Freemason lodge, de Ster in Het Oosten.
- Passing Ex-De Witte Huis (Daendels Palace)
- Gambir Station
- Passing Istana Merdeka
- Museum Prasasti
- Tour ended in Museum Prasasti
More on Freemasons:
https://www.history.com/news/freemasons-facts-symbols-handshake-meaning
Some useful tips for the tour :
- Please prepare to wear comfortable clothes & shoes (Jakarta's weather is all-time warm and humid)
- Please to always wear masks all time during the tour
- We will follow the health protocol in every places that we visit to ensure safety and comfort
- There will be a temperature check before the tour started
- 1st vaccination certificate is required.
- It is strongly encouraged to bring umbrella, in case of raining especially during rainy season (October – April)
- The zebra cross is limited and not well maintained in Jakarta. In few places we will guide the tourists to cross the street. Please follow the guide instruction for safety precautions.
Notes from us:
- We will be securing spots of 10 people, no less no more as we will be hiring an external party to guide us, so with less people, the price is more expensive per person.
- We will confirm the departure once slots of 10 people are achieved.
The tour costs:
Member: Rp175.000
Non-Member: Rp375.000
including guide with Professional Guide in English, Ticket Entrance, Mineral Water, Hand Sanitiser, Pocket Map.
excluding personal expense, meals & travel insurance.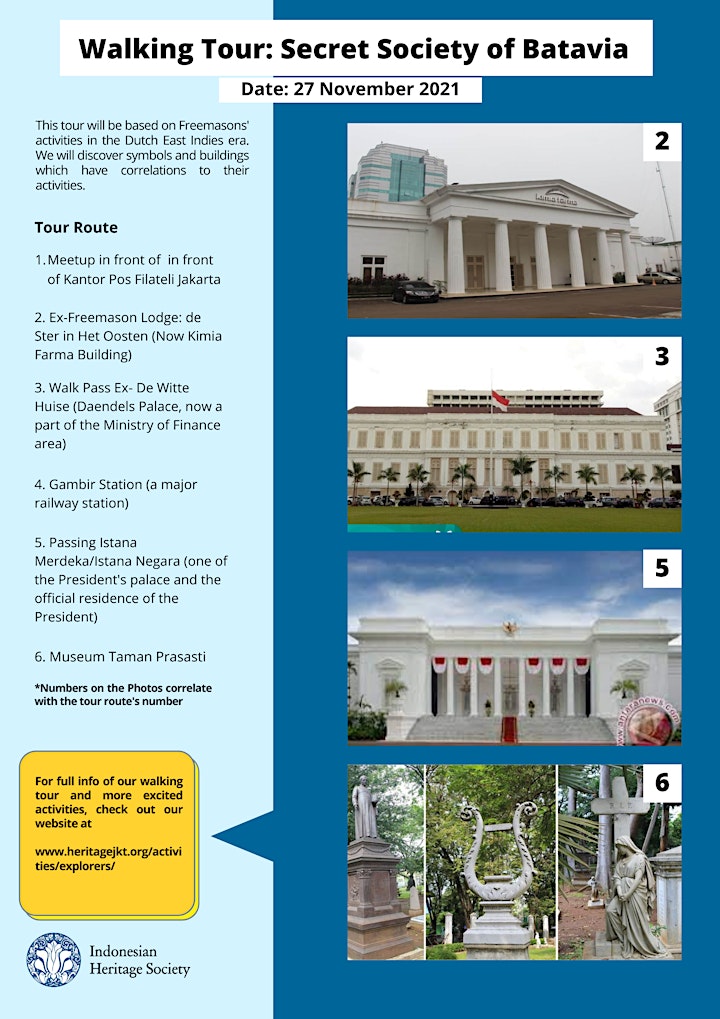 Organizer of Walking Tour - The Secret Society of Batavia