About this Event
Synopsis
On Jeannie's fortieth birthday, she has much to be proud of and more to look forward to. Having built a successful career, she and husband Mark are finally ready to start the family they have been planning for years. After a few false starts, the baby they have dreamed of will soon be a reality… or will it?
What is simple for some proves much harder for others. Their unexpected journey forces them to question things they have held onto for many years, drawing in friends and family, who all have views of their own…
Award
Water Child won the Best New Play in the City of Newcastle Drama Awards in 2012.
Review Highlights
Emma Wood's …examination of the impact fertility problems have on wives and husbands and the reactions of people around them is one that will move the hearts and minds of those who see it…this is a rewarding look at a generally unspoken subject.
— Ken Longworth, Newcastle Herald, 2012
____________
A fine piece of intense writing about fundamental issues!
— Aarne Neeme, Professional Director
*Take Note*
This is a recording of the live premiere on July 26, 2020 + Q&A portion.
The Playwright
Emma Wood
Emma Wood is an award-winning Australian playwright whose first play, 𝘞𝘢𝘵𝘦𝘳 𝘊𝘩𝘪𝘭𝘥, won Best New Play in the City of Newcastle Drama Awards in 2012.
𝘞𝘢𝘵𝘦𝘳 𝘊𝘩𝘪𝘭𝘥 was premiered in 2012 by the Newcastle Theatre Company. After it received strong critical acclaim, a group of independent theatre makers, under the direction of Adelle Richards returned the play to Newcastle, then Cessnock Performing Arts Centre, and toured to Adelaide Fringe in 2013. It was also independently produced under the direction of Kris Weber at Crossroads Theatre Melbourne in 2017.
With a determination to write stories both entertaining and thought-provoking, Emma's plays have been widely acclaimed by audiences and critics. Her ability to create passionate, substantial roles for women of all ages particularly delights actresses and audiences.
Her other plays have seen success and have been produced by several companies including Malvern Theatre Company, Newcastle Theatre Company (NTC), and as far afield as Yorkshire UK.
𝘔𝘳 𝘉𝘦𝘯𝘯𝘦𝘵'𝘴 𝘉𝘳𝘪𝘥𝘦, a smash hit in its 2014 world premiere, was returned by NTC in 2015, and toured to Zenith Theatre Sydney and Theatre 3 Canberra. Several productions have broken company box office records.
𝘛𝘩𝘦 𝘛𝘩𝘪𝘳𝘥 𝘈𝘤𝘵 received a staged reading at Occupy the Stage by Women's Theatre Festival of North Carolina.
Emma has had short plays performed at Short and Sweet (Manila) and Micro Theatre Newcastle, and written a commissioned verbatim play 𝘛𝘶𝘳𝘯𝘪𝘯𝘨 𝘗𝘰𝘪𝘯𝘵𝘴 for stroke survivors.
The Cast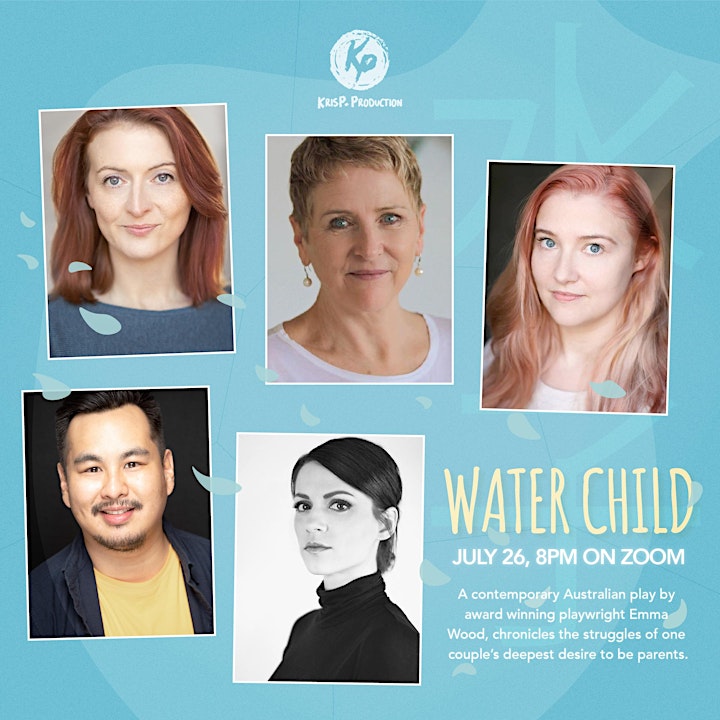 Left to Right, Top to Bottom: Stephanie Lodge, Claire Louise Williams, Amy Percival, Jon Cancio, Sé Marie
Stephanie Lodge
Stephanie Lodge is an actor originally from Northern England, moving to London in 2003 to study a degree in Acting at Italia Conti Academy. Theatre credits since training include, 'Mrs Affleck' National Theatre, 'The Door' Park Theatre, 'Blind Date' Southwark Playhouse, 'The Single Utamaro' Carriageworks, Leeds. Stephanie also co-founded new writing theatre company Descent, who for 5 years, regularly produced a new writing night at various London fringe venues, which included a residency at Rich Mix in East London. More recently Stephanie has been working on a number of feature films, including 'Hilda' Odds On Productions, 'The Looking Glass' Cyber Theatre, and 2 lead roles in horror features with Proportion Productions, 'Don't Speak' and 'The Bad Nun: Deadly Vows'. Stephanie is very excited to return back to the 'virtual' stage to perform in 'Water Child'.
Claire Williams
Claire Williams is an Australian actor who has worked professionally for Freewheels Theatre Company, Hunter Valley Theatre Company and Tasmanian Theatre Company, and as a voiceover artist. She has worked more recently in community theatre. She won a City of Newcastle Drama Award (CONDA) in 2015 for her performance as Sister Aloysius in John Patrick Stanley's Doubt. In the same year, Claire appeared as Anne Hathaway in Where Late the Songbird written and directed by Carl Caulfield for Stray Dogs and took the title role in The Popular Theatre Company's production of Charley's Aunt, directed by the late Victor Emeljanow. Claire was Faculty Director, Creative Industries at Hunter TAFE and is currently a freelance editor and researcher.
Amy Percival
Amy Percival is originally from the UK, where she trained at the Court Theatre Training Company. After graduating, Amy worked professionally in theatre and voice-over productions in a variety of performance styles, from Shakespeare to scare acting. Amy has been lucky enough to work with production companies, such as DreamWorks Production and Premier Productions which took her to perform in Abu Dhabi and national UK tours. Amy is also a committee member of the Hong Kong Players, a theatre company that produces community theatre in Hong Kong.Amy is a passionate Drama Teacher and has been teaching internationally in Singapore and Hong Kong since 2014. She is very excited to be a part of this production and to be working with such talented people!
Jon Cancio
Jon Cancio born in the Philippines, raised in the United States, and currently based out of Singapore. Jon Cancio is an actor, improv teacher, and podcast host.
His theatre credits include Twelfth Night (Singapore Repertory Theatre), Watching (Toy Factory), and Ubu Roi (The French Stage). One of his proudest moments in the Theatre was performing in a production of Blood Wedding that traveled to the UNESCO World Festival of Theatre Schools in Lima, Peru.In Singapore, he has featured in numerous television shows including: Girl Band Called Girl Band, Paddles Up, and The Benzi Project. He has appeared in ads for companies such as: Sony, Pizza Hut, Scoot Airlines, BMW, and Tiger Beer.
Follow Jon on Instagram @jon_cancio and subscribe to his podcast Good Hang, where he and Nathan Hartono talk about any and everything that tickles their very ticklish fancy. Jon is delighted and honored to be playing Mark in the online premiere of Water Child.
Sé Marie
Sé Marie is based out of Los Angeles, earning a B.A. in Film & Television Acting in 2011. She began her career as a stunt double for Rachel McAdams and Vinessa Shaw, before transitioning fully into a career in acting. She has led several feature films to major film festivals, including 'Career Opportunities in Organized Crime' (SXSW Film Festival 2016) and 'Careful Not to Cry' (Toronto International Film Festival 2017). She can be seen in the upcoming film 'Unsinkable' about the aftermath of the Titanic, pending an upcoming theater release date. Website: www.officialsemarie.com