Wealth Insider Gathering: Investment Seminar & Networking Event

Saturday, September 24, 2016 from 9:00 AM to 6:00 PM (Malaysia Time Malaysia (Kuala Lumpur) Time)
Event Details

Wealth Insider Gathering is a gathering of like-minded individuals who are interested in wealth creation, investment, asset allocation, entrepreneurship, co-owning businesses, and networking activities.
The financial world is changing at a rapid pace and the strategies that worked in the past, may not work as well today. Wealth Insider Gathering will be an opportunity for those who are seeking financial education and be connected to opportunities.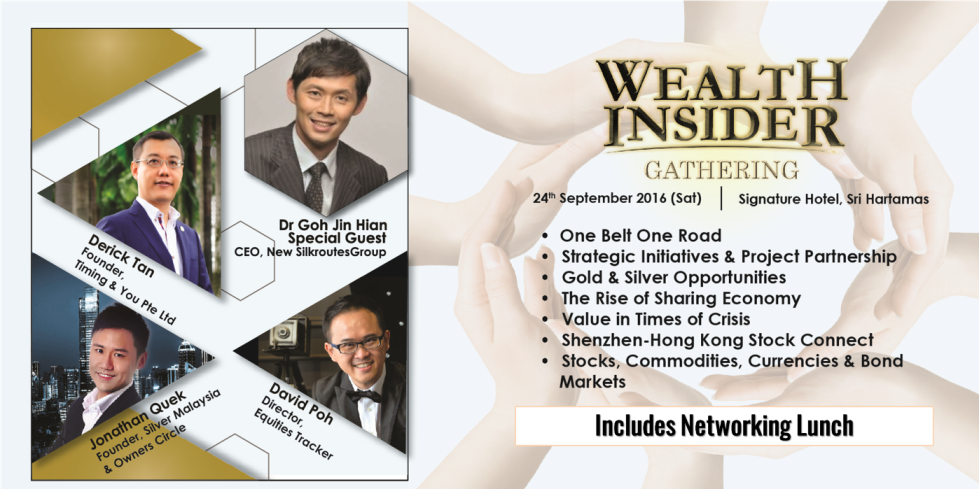 Potential of One Belt One Road by Dr. Goh Jin Hian
Uncover the potential of China's One Belt One Road

Discover how you can tap into the opportunity of One Belt One Road

Learn how strategic initiatives and project partnerships can be forged

Discover the harnessing power of new connections via New Silkroutes Group

Get to know the board and senior management of New Silkroutes Group
Dr. Goh Jin Hian

Executive Director and Chief Executive Officer New Silkroutes Group

Dr. Goh Jin Hian was first appointed as an Executive Director of the Company on 24 June 2015 and as Chief Executive Officer on 7 July 2015.


Dr Goh is currently an Independent Director of SGX-listed Cordlife Group Limited. He is also a Director in Parkway Shenton Pte Ltd, Shenton Insurance Pte Ltd and IAG Healthsciences Pte Ltd, all of which are healthcare-related companies. Prior to joining New Silkroutes Group, Dr Goh was a C-suite executive in ParkwayHealth from 1999-2011 and an Executive Director in a private oil and gas company from 2012-2014.
He has also been serving on the Council of the Singapore Human Resource Institute since 2007 and currently holds the position of Vice-President. He had also previously served on the Council of the Singapore Medical Association.


Dr Goh obtained his Bachelor of Medicine and Bachelor of Surgery from the National University of Singapore in 1992. He also holds a Master of Business Administration from The University of Hull. In addition, Dr Goh completed The Wharton Advanced Management Program in 2005.
Gold and Silver by Jonathan
Gold & Silver Session: - A Beginner's Guide To Investing in Gold & Silver
- Why an Economic Crisis is Nothing to be Feared but an Opportunity to Profit Through Precious Metals?
- Why Silver Is At The Opportunity of a Lifetime?
Owners Circle:

 


- Discover The Unstoppable Rise of the Sharing Economy in Today's Business
- Field Guide to Fractional Ownership
 

Jonathan Quek

Founder of Silver Malaysia and Owners Circle, Best Selling Author, Speaker and Trainer

 

Jonathan Quek is a dynamic, high-impact, and in-demand public speaker that has the unique ability to empower people with practical strategies in the area of insurance, investments, money management, personal development and entrepreneurship. His work spans across 20 major universities in Malaysia. He also works with clients ranging from government agencies and financial institution like Bank Negara Malaysia, AKPK Malaysia, Bursa Malaysia, CIMB Bank, Kenanga Investment Bank, CPA Australia, AIESEC, and Success Resources.

 

Jonathan is the author of his best-selling book "Why Gold? Why Silver? Why Now?" and subsequently co-authored two issues of "Keep Investment Simple & Stupid" Series titled "How to Invest like an Idiot & Trade like a Pro" and also "5 Elements of Successful Investors".

 

As a regular speaker on the conference circuit, Jonathan has also been invited to speak at financial institutions, corporate organizations, and education institutions across Malaysia, Singapore, Vietnam, Cambodia and many more.



Cycle Analysis by Derick Tan
Opportunities in Shenzhen-Hong Kong stock connect

Bright posts in South East Asia and China

Understand what is Cycle Analysis (CA) and how it can be used to forecast the direction of different investment asset classes.

Learn what are the direction of stock, commodities, currencies and bond markets in the 2nd half of 2016.

Identify what is in store for the Fed and other global central banks and which 3 important political events will impact the global financial markets going forward.

Understand the 1 crucial factor that will determine the rise and fall of different investment sectors.

Discover a SIMPLE yet effective way to participate in various investment asset classes without using options, futures or derivatives.

Discover what are the next major PROFITABLE trends for phenomenal profit opportunities.

Learn how to protect and grow one's wealth using a time-tested financial rule.
 

Derick Tan

Founder and CEO of Timing & You Pte Ltd

 

Derick Tan is the Founder and Principal Trainer of "Timing And You" program. Since late 2015, Derick has dedicated his time to spreading the awareness of Sovereign Debt Crisis (SDC). Over the past 6 months, this program has reached and touched hundreds of students across Singapore, Malaysia, Indonesia and Vietnam.

Derick has been a full time trader and investor for the past 17 years. He also spent his time advising High Net Worth Individuals and coaching many individuals regionally on how to invest in markets like US, China, India and Hong Kong.

Derick Tan is the appointed overseas advisor for DingYing Capital Group, a China-based financial firm whose Asset Under Management is worth US$220 million. He accurately predicted the final low in oil & gold during last year end Wealth Insider Summit in KL. He was invited to tour First Reits assets in Jakarta as well as Suntec Reits in Singapore. In May, he correctly forecasted the occurrence of Brexit during Vietnam Wealth Insider Summit in Hanoi. Derick was also featured in both Feb and June issue of the Smart Investor Magazine.



Value Investing by David Poh  (EquitiesTracker)
Capital risk
Timing risk
Building long term money compounding machine

Professional Due-Diligence Methods for Stock Picking

6 categories revisited
Case studies
 

 

David Poh

Director at EquitiesTracker International

David Poh graduated from the Multimedia University in Cyberjaya, with a first class degree in electronics engineering, and he served in the telco industry for 10 years, working with both Vendors as well as international and local telco service providers.

He is currently a qualified trainer of the EquitiesTracker.com Research Portal and the EquitiesPortfolioManager.com Portal. He is deeply involved in EquitiesTracker's acclaimed Value Investing and the Equities Portfolio Management education series. He lectures extensively. David is also involved in long-term wealth creation via value investing strategies and methods.
When & Where

The Signature Hotel & Serviced Suites Kuala Lumpur
Sri Hartamas
Kuala Lumpur, Wilayah Persekutuan Kuala Lumpur 50480
Malaysia

Saturday, September 24, 2016 from 9:00 AM to 6:00 PM (Malaysia Time Malaysia (Kuala Lumpur) Time)
Add to my calendar
Organizer
Transcendz Marketing
Transcendz is an event and marketing agency with core focus in creative, fun and experiential events production whose personalised services give you exactly what you want. We tailor-made occasions that bring your audience closer to you and help create relationship and memories that last. Transcendz has been working with clients across SEA on creating magical memories since its inception. From large-scale stage shows to intimate set-ups, we have conceptualised ideas and creative designs, supporting events with technical crews and delivering quality physical installations in order to provide a hassle-free approach for our clients in their quest to create an impactful campaign. By leveraging on its database, business networks and experience, Transcendz offers integrated services in programme management, sales, videography off- and online marketing including digital media design and management.
Join our community at: Investpreneur Circle
Wealth Insider Gathering: Investment Seminar & Networking Event