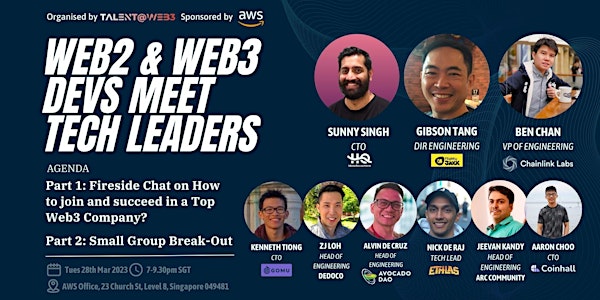 Web2 & Web3 Devs Meet Tech Leaders (Q1 2023)
A unique opportunity for web3 technical leaders and web3/web2 developers to learn from and with each other
Date and time
Friday, April 14 · 7 - 9:30pm +08
Location
METACAMP, 32A Pagoda St, Singapore 059191 METACAMP, 32A Pagoda St, Singapore 059191 Singapore, 059191 Singapore
About this event
Event Information
​The Talent@Web3 Developer MeetUp (Q1 2023) is a unique opportunity for web3 technical leaders and web3/web2 developers to learn from and with each other. It is open to all technical folks, some of whom are already building web3 projects and others in web2, aspiring to learn about web3.
​​Agenda
​​Part 1: Fireside chat - How do I join and succeed as a developer in a high potential web3 company?
​​Part 2: Small group breakout with web3 technical leaders - where aspiring web3 devs will have the opportunity to ask questions to the tech leaders in the comfort of a small, intimate group. There will be 3-4 groups of 6-8 pax. Each breakouts group will be given 20-min each
​​Part 3: Networking ** Food & Drinks
​​​
​​Organisers & ​Sponsors
Talent@Web3 | Bringing together Web3 builders and aspiring Web3 talent through learning and networking. Join our telegram group here: https://t.me/talentatweb3 and our developer community https://t.me/talentweb3_developers
​Amazon Web Services | Empowering startups to build, grow and succeed. Today, Amazon Web Services provides a highly reliable, scalable, low-cost infrastructure platform in the cloud that powers hundreds of thousands of businesses in 190 countries around the world.
​​​Speakers and Facilitators
​Sunny Singh | Co-Founder and CTO of Headquarters, formerly in SensorFlow, Anywhr and Traveloka
​​Ben Chan | VP Engineering at Chainlink Labs, formerly at Bitgo, Microsoft
​Gibson Tang | Director of Engineering at Mighty Jaxx, formerly at Lenskart, DishDash
​Alvin De Cruz | Head of Engineering at Telos Labs/Avocado Dao, formerly at Tickled Media, Gumi Asia
​Kenneth Tiong | CTO at Gomu, formerly at Brahman Capital, Garena, McKinsey
​Jeevan Kandy | Head of Engineering at ARC Community, formerly Circles.Life and Myntra.
​Nick De Raj | Tech Lead at Ethlas, pivoted his career from the oil & gas industry to software development
​Aaron Choo | Co-founder and CTO at Coinhall
​ZJ Luo | Head of Engineering at Dedoco, formerly at Youtrip and Uber.
Location
Amazon Web Services Singapore Pte Ltd, 23 Church St, #10-01, Singapore 049481
Please proceed to Level 8 after registering with the building reception.