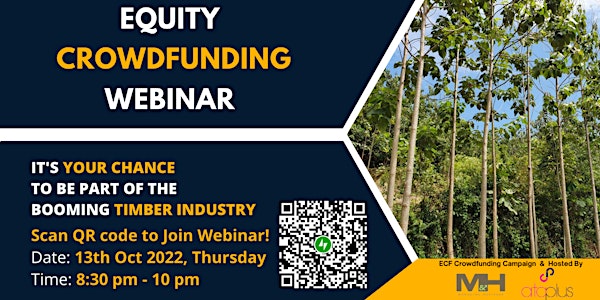 Webinar: Equity Crowdfunding (ECF) by M&H Global Plantation Sdn Bhd
Interested in SUSTAINABILITY INVESTMENT? It's your chance to be part of the booming TIMBER INDUSTRY! Join our WEBINAR now!
About this event
Join our Equity Crowdfunding (ECF) webinar on Timber Industry with M&H Global Plantation Sdn Bhd. This is an Equity Crowdfunding campaign on Ata Plus Sdn Bhd platform.
M&H Global Plantation is a sustainable forestry management solutions provider. We provide the core competencies of Research & Development, Laboratory Services, Nursery Production & Management and Operations Management.
In this webinar, you'll learn:
1. How to grow your WEALTH through SUSTAINABLE FORESTRY.
2. The DEMAND of the TIMBER INDUSTRY.
3. The INVESTMENT OPPORTUNITIES with the 3P movement (Planet, People & Prosperity).
READY TO GROW YOUR WEALTH?
Scan QR code to REGISTER OR click this link: https://bit.ly/3fkuWvd to join our webinar!!!
Limited slots available only.