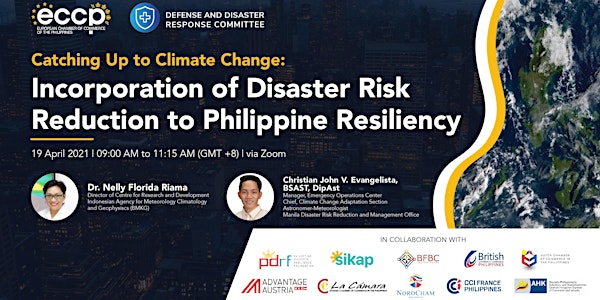 Webinar: Incorporation of Disaster Risk Reduction to Philippine Resiliency
Catching Up to Climate Change
About this event
The Philippines is a country distressed by its susceptibility to earthquakes from its location in the Pacific Ring of Fire, and volcanic eruptions from its 24 active volcanoes nationwide (Sanchez, 2020). Filipinos also face intensified periods of drought and rainfall due to the surrounding bodies of water of the archipelagic country brought about by the El Niño and La Niña phenomena. The Climate Change Commission, whose officials represent the Philippines at the United Nations (UN) Framework Convention on Climate Change's annual conference of parties (COP), said that the nation is aiming to reduce harmful greenhouse gases by 30 percent by 2040.
To mitigate the effects of naturally occurring calamities, Disaster Risk Reduction (DRR) measures such as disaster management, mitigation, and preparedness have been implemented by different local and international organizations. DRR programs by concerned government entities will be able to strengthen infrastructures, ensure access to necessities, and reinforce adaptive capabilities by vulnerable populations across the country (Philippine News Agency, 2020).
Join us at the first series of Catching Up to Climate Change entitled "Catching Up To Climate Change: Incorporation of Disaster Risk Reduction to Philippine Resiliency" on April 19, 2021, from 9:00 am to 11:15 am via Zoom as the speakers would discuss the Philippines' vulnerability to Climate change, services to protect the Philippines from natural disasters, proper implementation of disaster preparedness programs from the government to the private sectors, how businesses should prepare against natural disasters, climate change resiliency for the Asia-Pacific Region and discussion on underlying disaster risk precautions and dissemination of information.