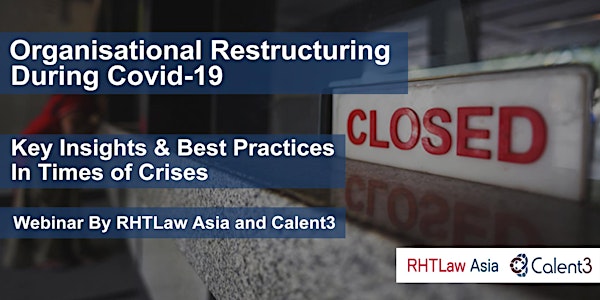 Webinar: Organisational Restructuring During Covid-19
In this webinar, Calent3 and RHTLaw Asia will be sharing key insights & best practices on organisational restructuring during Covid-19.
About this event
Organisational Restructuring During Covid-19
- Key Insights & Best Practices in Times of Crises
Covid-19 has severely disrupted businesses worldwide by adding unprecedented challenges on a global scale. Asia and global economies are facing real and present political and economic risks, since the lack of demand and the inability to supply to markets will inevitably result in companies having to cut costs and ultimately restructure, rightsize and rebuild for the new norm.
How do companies plan and manage these critical business decisions to survive the current Covid-19 crisis, and plan ahead to emerge post-crisis with greater success? Join us in our upcoming webinar where experts from RHTLaw Asia and Calent3 will share key insights and best practices in this area.
Webinar Agenda
Types of restructuring events in the Singapore context during a crisis and how employees are affected
Issues rising from these events
Cross-border issues and implications
Managing an outplacement exercise: Best practices & key insights
Q & A
Click here for more details on this webinar
Webinar Speakers
1) Edmund SENG (Managing Director, Calent3)
Edmund is Founder and Managing Director of Calent3. With 20 years of business, management and human capital consulting experience, he has led consulting teams throughout Asia Pacific partnering Fortune 500 MNCs, large enterprise, government agencies and non-profit organisations in career and talent management initiatives. Click here for full profile.
2) Vernon VOON (Partner, RHTLaw Asia)
Vernon is a Litigation and Dispute Resolution partner in RHTLaw Asia. His main focus areas are in debt recovery and employment advisory. His list of clients include local and foreign financial institutions, commercial landlords, multinational companies and local SMEs. Click here for full profile.
3) Zachary SCULLY (Partner, RHTLaw Asia)
Zachary is a Partner in RHTLaw Asia and specialises in Corporate Restructuring and Insolvency. He has 23 years of post-qualifying experience and is qualified to practice law in Singapore, Malaysia and Australia. Zachary has diversified expertise gathered from both private practice as well as from being General Counsel in an Oil & Gas public listed company based in Malaysia. His areas of practice include corporate restructuring and insolvency, dispute resolution and corporate commercial matters where he regularly advises clients on cross-border transactions, joint ventures, corporate finance, investments, trust structures and other commercial agreements. Click here for full profile.