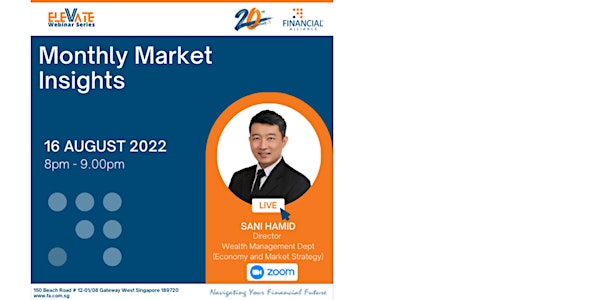 [Webinar] Sani Hamid's Monthly Market Insights @ 16 August 2022
This monthly update provides a snapshot of changes in the Investment Marketplace.
About this event
Join FA's Monthly Market Insights, featuring Mr Sani Hamid, our Director of Wealth Management in charge of Economy & Market Strategy where he shares his thoughts on world events and a Q&A based discussion.
Speaker: Sani Hamid
=============================
Market Update | Week Ending 5 Aug 2022
· Nancy Pelosi lands in Taiwan, China responds
· US economy adds more jobs than expected
· Robust company earnings – PayPal and Moderna posts solid earnings reports
· Bank of England hikes interest rates by 50bps
· Alibaba's better-than-expected results· Crude oil prices fell sharply amid shrinking factory activity in China and lower US gasoline demand
What is it in it for you?