Sales Have Ended
Ticket sales have ended
Thank you for registering with us. See you there!
Sales Have Ended
Ticket sales have ended
Thank you for registering with us. See you there!
Description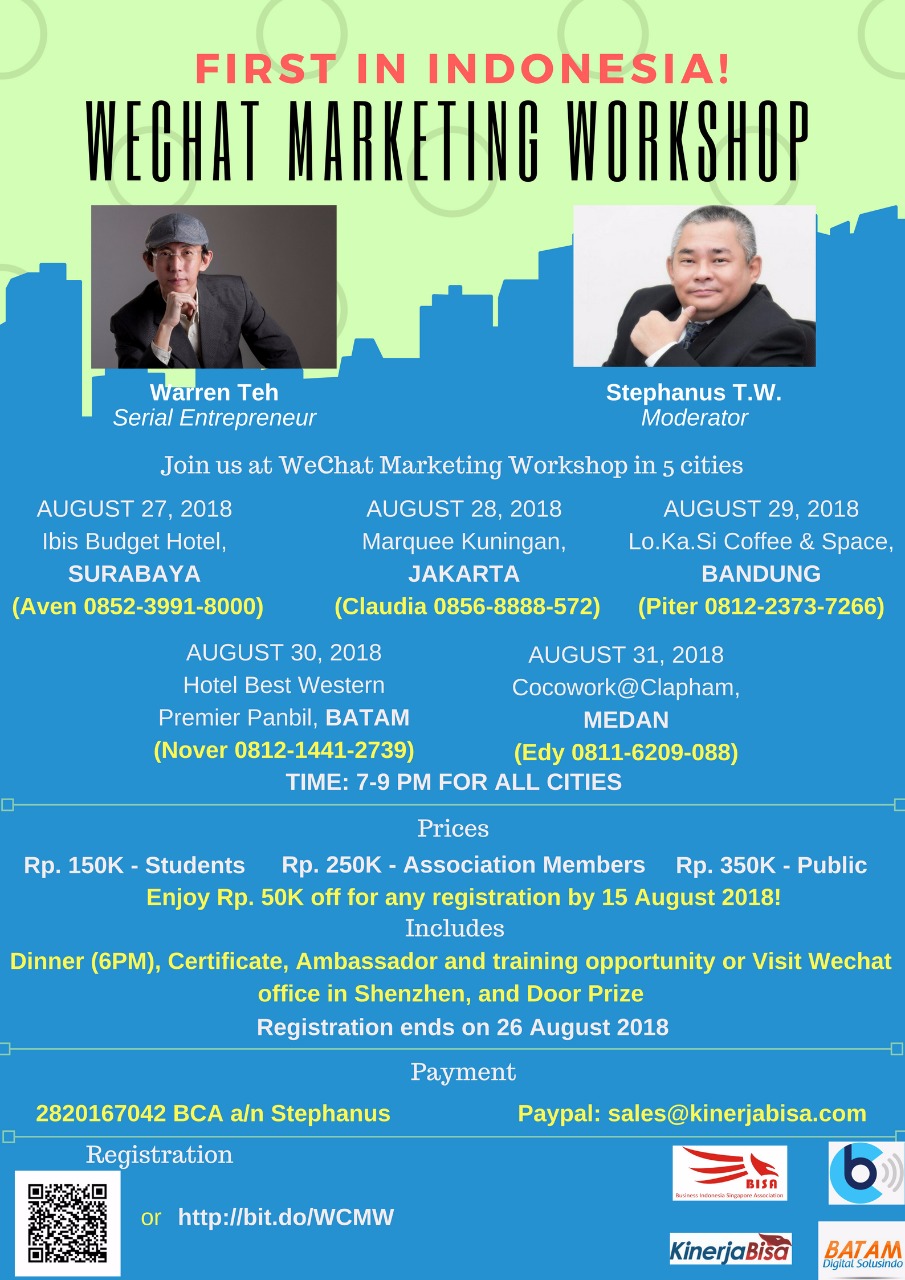 KinerjaBisa would like to invite you to WeChat Marketing Workshop in 5 cities in Indonesia.
FIRST IN INDONESIA!
Come and join us to learn on how to use WeChat to grow your businesses.
Don't miss it!
Surabaya, Mon 27 Aug 2018
7-9 PM
IBIS Budget Hotel, Surabaya

Jakarta, Tue 28 Aug 2018
7-9 PM
Marquee Kuningan
Bandung, Wed 29 Aug 2018
7-9 PM
Lo.Ka.Si Coffee & Space
Batam, Thurs 30 Aug 2018
7-9 PM
Hotel Best Western Premier Panbil
Medan, Fri 31 Aug 2018
7-9 PM
Cocowork@Clapham


Registration ends on 26 August 2018, 11:59PM
Rp. 150K - Students
Rp. 250K - Associations Members
Rp. 350K - Public

Early birds get to enjoy 50K discount by 15 August 2018, 11:59PM
Includes:
1. Dinner (at 6PM)
2. Certificate of Attendance
3. WeChat Marketing Ambassador Opportunity for Indonesia Market.
4. Training Opportunity in Singapore or Visit WeChat Office Opportunity in Shenzhen (For Selected Participants)
5. Door Price
Payment by:
BCA 2820167042
a/n Stephanus
Or PayPal
sales@kinerjabisa.com


2 HOURS WORKSHOP DESCRIPTION
WeChat has grown into a very popular and influential social network.
WeChat has grow into a very popular and influential social network. There are over 1 billion WeChat users worldwide. One effect of the banning of western social media platforms like Facebook, Google, YouTube in China, WeChat becomes the best platform for reaching Chinese community.
Other than WeChat personal account for daily usage, WeChat Official Account help businesses to promote their brands to billions of WeChat users, thus reducing propagation cost, raising brand popularity, and building up more influential brand images.
To meet the increasing demand for shopping from Chinese travelers, WeChat Pay have started to expand their overseas presence since last year, and to cooperate with more local enterprises.
If you've not started, there's really no reason stopping you from at least taking that first step.
In the workshop, you will learn:
How to instantly connected to other during networking
How to build your personal branding
How to build your marketing strategy
What is WeChat Official Account and WeChat Pay
Who's it for?
1. Business Entreprises
Seeking to reach out China/ Chinese market.
2. Career Changers
Attempting to start an exciting career in digital marketing industry.
3. Marketing Professionals
Stand one step ahead of your peers knowing this Chinese social media.
4. Students or Millenial or Future Young Leaders
This time is their era, young, IT savvy, and smart.
Trainer:
Warren Teh is a Certified ACTA (Advanced Certificate in Training and Assessment) cum PA (People Association) trainer. Inclination towards WeChat Marketing started in 2013. He is specialized in implementing Chinese social media marketing strategy, coaching and execution.
He is also a serial entrepreneur who established 6 companies ranging from Telco, e-commerce, social media marketing, limousine services, cleaning service to F&B.
Moderator:
Stephanus Titus Widjaja as The Founder of BISA (Business Indonesia Singapore Association) www.bisakita.com and KinerjaBisa Holding Pte Ltd www.kinerjabisa.com
He has more than 10 Indonesia companies in Singapore and as a Commissary of PT Airlock Indonesia Jaya Raya, a foreign direct investment company focussing on spare parts industry in Cikarang, Jakarta.
Now he also serve as Chairman of FKMIS (Forum Komunikasi Masyarakat Indonesia di Singapura) since Jan 2018 - now.
He has regular business networking weekly, monthly, and yearly (www.meetup.com/BISAKITA) a business bridge between Indonesia and overseas through Singapore.
Seats are limited, reserve your seat now!
More Info:
Aven 0852-3991-8000 (Surabaya)
Claudia 0856-8888-572 (Jakarta)
Piter 0812-2373-7266 (Bandung)
Nover 0812-1441-2739 (Batam)
Edy 0811-6209-088 (Medan)
Regards,
KinerjaBisa Team