Description
"Formal Education will make you a living; Wealth-Education will make you a Fortune, if you follow the Right Leader" - Shawn D'Cotta
Take a minute to soak this in. It is so true. This is the essence of wealth.
Recently, a new wave has hit us. Cryptocurrency! Millions of people are flocking onto the digital coin marketplace to buy themselves coins in the hope that they become the next Bitcoin Millionaires. It has not only flooded our media, press, web and sponsored ads, but the crypto platforms and coin exchanges are all overly-registered such that there is a long waiting list of new user verifications to be made on platforms such as CoinHako, CoinBase and Xfers!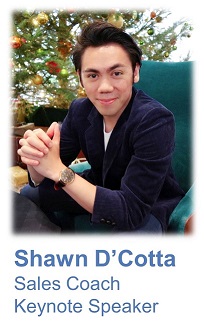 People have come up to me many times in a day and asked me this, "Shawn, which crypto coin should I buy?" Now… the answer I tell them is simple. "Stop Speculating, Start Producing!"
In this special 90-minute workshop, I will be sharing with you my humble knowledge on Cryptocurrency, how YOU can start profiting from just $100, how do YOU start producing your own coins through mining, and most importantly, how YOU can finally learn to create wealth.
About the Speaker

Shawn D'Cotta is a Keynote Speaker in Sales, People Relations and Wealth Generation. A key strength of Shawn is in coaching, training and personal development. He has worked as a Training Consultant with Beacon Consulting, for the Business Excellence (BE) certifications and Workforce Singapore (WSG) programmes in the telecommunications, retail, hospitality and F&B sector. His noteworthy clientele include Philip Securities, Neo Group, Samsung, Digi (Malaysia), StarHub, Robert Bosch and many more. Highly engaging and charismatic, he inspires his audience from all walks of life. He also specialises in coaching Sales Professionals in crafting persuasive pitches and mastering the art of cold calling.
As a Thought Leader and Believer in Robert Kiyosaki'sCashflow Quadrant, Shawn also speaks regularly at business events on the creation of Passive Income. Calling himself an "accidental testimony" in cryptocurrency investments, he shares openly about the next wave of our digital economy and the disruption of money with the rise of cryptocurrency.
---
DONT WAIT! Book your seats now!