Description
Mount Elizabeth Fertility Centre 30th Anniversary
Having difficulties conceiving? Listen to our experts as we share tips and tricks on conceiving. Learn about the issues in conceiving and find out what options you have to having your own bundle of joy.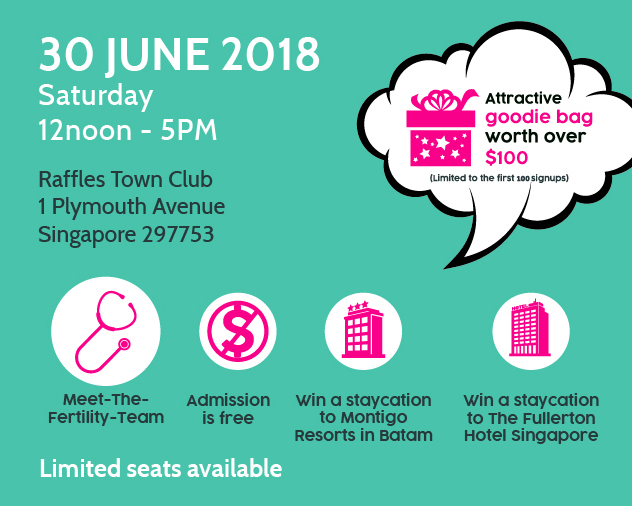 Event Programme:
1200 : Registration
1300 : Welcome Address by Dr. Noel Yeo (CEO, Mount Elizabeth Hospital)
1310 : Speech by Guest-of-Honour, Dr. Amy Khor (Senior Minister of State, Ministry of the Environment and Water Resources & Ministry of Health)
1320 : 'Happiness is a Baby' by Dr. Charles Lim (Obstetrician and Gynaecologist, Mount Elizabeth Fertility Centre
1325 : 'Older Mums and Pregnancy- How Can You Succeed?' by Dr. Kelly Loi (Obstetrician and Gynaecologist, Mount Elizabeth Fertility Centre)
1350 : Q&A
1355 : Refreshment Break
1410 : 'When Your Womb Makes Pregnancy D ifficult' by Dr. Ann Tan (Medical Director, Mount Elizabeth Fertility Centre)
1435 : Q&A
1440 : Presentation by previous patient of Mount Elizabeth Fertility Centre
1455 : Lucky Draw
1505: Refreshment Break
1520 : Meet-the-Fertility-Team (Multiple concurrent breakout sessions - 15 mins per session)
*Please note that registration for the 'Meet the Fertility Team' segment is on a first come first serve basis. You may register for the Meet the Fertility Team segment at the time of registration for event.
1700 : Event ends
Come Join Us!
Topic Details
Older mums and pregnancy - how can you succeed?
Dr Kelly Loi
A growing number of women are delaying pregnancy until their 30s and beyond. Medical research however, has found that with increasing age, there may be increased problems with fertility, and higher risks for both mum and babe.
Planning your pregnancy gives you the advantage of being as healthy as possible before conceiving. Most women aged 35 and above will have a healthy pregnancy and a healthy baby. However, there are some conditions that are more likely to occur if you are pregnant at aged 35 or older. Understand what the risks are, and understand what steps should be taken, before and during pregnancy, to improve your health and the health of your future children.
When Your Womb Makes Pregnancy Difficult
Dr Ann Tan
The womb is the home where the embryo grows into a fetus, and is nourished there until it is time for the fetus to be born as a baby.
However, there are many things which can make the home not as favourable to "house" the developing baby:
Abnormal growths (i.e.: polyps, fibroids, etc)
Damage from previous surgeries

Short cervix
Intrauterine adhesions

Having a septate uterus or double uterus
All the above factors will make it difficult to become pregnant. Dr Tan will explain these issues and help suggest what can be done to overcome them.