When Stones Speak & Trees Cry: The Station of Prophet Muhammad
When and where
Location
UE Convention Centre 2 Changi Business Park Ave 1 Singapore, Singapore 486015 Singapore
Refund Policy
Contact the organizer to request a refund.
Description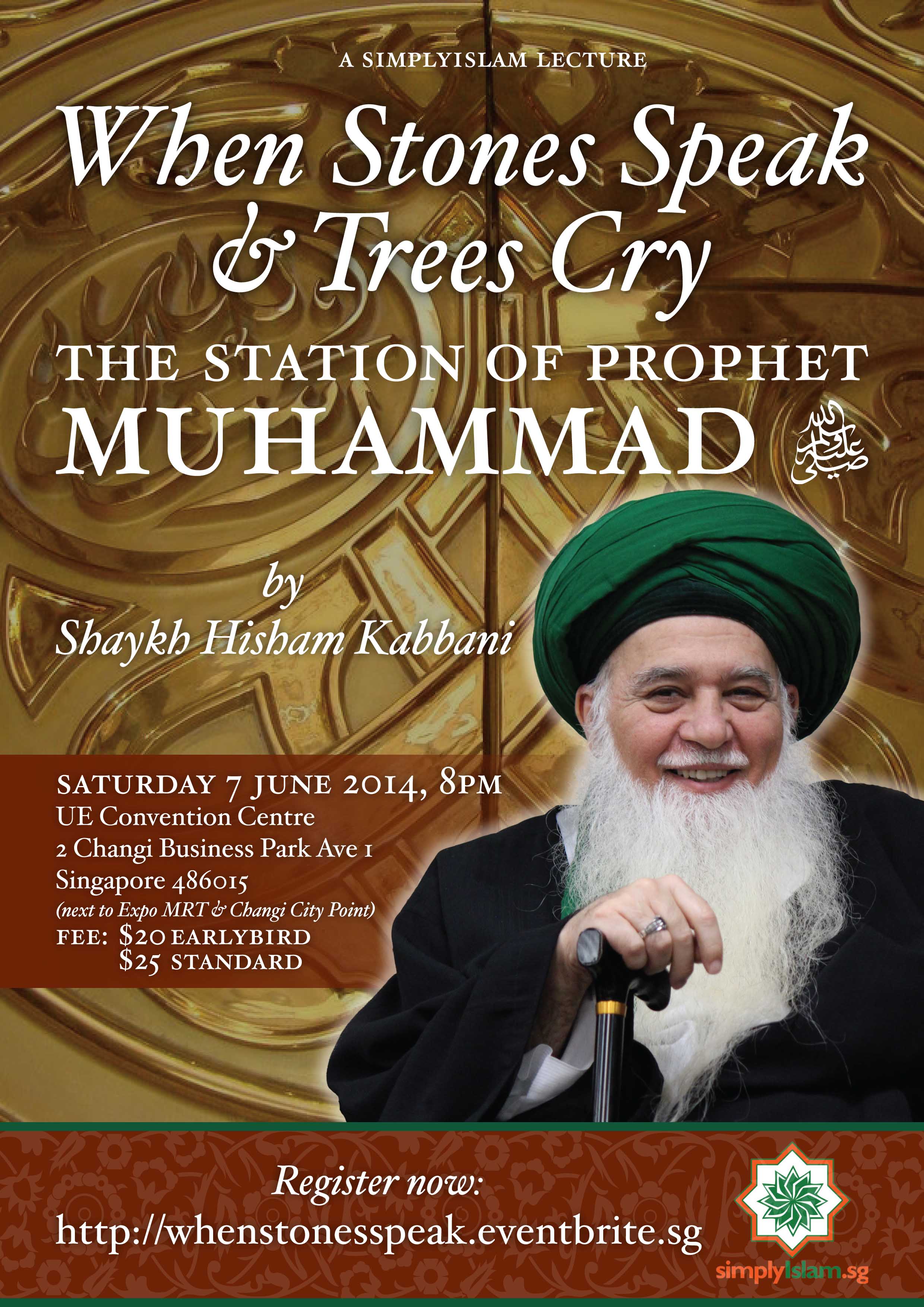 SimplyIslam is pleased to organise a lecture "When Stones Speak & Trees Cry" by the world renowned Islamic scholar and author, Shaykh Muhammad Hisham Al-Kabbani, Chairman of the Islamic Supreme Council of America. The following are the details:
Topic:When Stones Speak & Trees Cry: The Station of Prophet Muhammad
Date: Saturday 7 June 2014
Time: 7.45 pm
Venue: UE Convention Centre
2 Changi Business Park Ave 1
Singapore 486015
(next to Expo MRT, next to Changi City Point)
Speaker: Shaykh Muhammad Hisham Kabbani (click for bio)
For any enquiries, please email info@simplyislam.sg or call 65474407.
Topic Synopsis
The birth of Prophet Muhammad, peace be upon him, is the greatest honour manifested by Allah Almighty for the entire humanity. In the Holy Qur'an, Allah mentioned,
"And We have sent you (O Muhammad) not but as a mercy for the worlds (all of creation)" (Qur'an 21:107)
There were many miracles that preceded the Prophet's birth, as well as other miracles and incidents that took place after his blessed birth. The Hadith or Prophetic Traditions are replete with narrations of hundreds of such miracles. It was surely a sign of the grand and lofty station of Prophet Muhammad, peace and blessings of Allah be upon him.
Some of these Prophetic Traditions include:
1. Imam Muslim reported on the authority of Jabir that the Prophet said: "I recognize a stone in Makkah, which used to salute me before my advent as a Prophet and I recognize that stone even now."
2. The Prophet used to stand by a tree or a date-palm on Friday. Then an Ansari woman or man said. "O Allah's Messenger! Shall we make a pulpit for you?" He replied, "If you wish." So they made a pulpit for him and when it was Friday, he proceeded towards the pulpit (for delivering the sermon). The date-palm cried like a child! The Prophet descended (the pulpit) and embraced it while it continued moaning like a child being quietened. The Prophet said, "It was crying for (missing) what it used to hear of religious knowledge given near to it."
Shaykh Hisham Kabbani will share some of the miracles of Prophet Muhammad, peace and blessings of Allah be upon him, experienced at his birth, before his Prophethood, and during his Prophetic life.
Shaykh Hisham Kabbani will also highlight the need to increase our love for Prophet Muhammad through an understanding of the Sirah or Prophetic Biography, and he will also share specific habits for Muslims to develop and inculcate in enhancing their love for Prophet Muhammad.
About Shaykh Hisham Kabbani
Born into an eminent family of religious scholars in Beirut, Shaykh Muhammad Hisham Al-Kabbani is a world-renowned Muslim scholar, author, and lecturer.
Shaykh Hisham Kabbani received his Islamic Law (Shariah) Degree in Syria (Damascus). He also studied deeply the subject of Islamic spirituality under two internationally renowned Naqshbandi spiritual guides, namely, Shaykh Abdullah al-Fa'iz ad-Daghestani and Shaykh Nazim Adil al-Haqqani. He also holds a Bachelor's Degree in Chemistry from the American University of Beirut and also studied medicine in Lowain, Belgium.
Shaykh Hisham Kabbani is Chairman of the Islamic Supreme Council of America (ISCA), a non-profit religious organisation based in Washington DC. ISCA has spearheaded a number of peace initiatives, hosted notable conferences, actively engages in inter-religious dialogue, and promotes traditional and moderate Islamic views within and outside of USA. ISCA has addressed numerous world bodies such as the United Nations and continues to advise the United States Department of State on issues regarding Islam, religious tolerance and terrorism.
For many years Shaykh Hisham Kabbani has publicly condemned all acts of terrorism and the use of Islam to promote terrorist agendas. He has worked ardently to help people all over the world, from all walks of life, better understand the moderate, tolerant nature of traditional Islam, as practiced around the world.
In this role of spreading the message of Islam and peace, Shaykh Hisham Kabbani has met with many heads of state like President George Bush, President Bill Clinton, President Bambang Yudhoyono (Indonesia), Vice-President Jusuf Kalla (Indonesia), Prime Minister Abdullah Badawi (Malaysia), President Hamid Karzai (Afghanistan), Prime Minister Recep Erdogan (Turkey) and many more. [click for full biodata]