Description
All tickets for the event is now SOLD OUT. We thank you for your kind support, and we will be making the recording of the event available soon.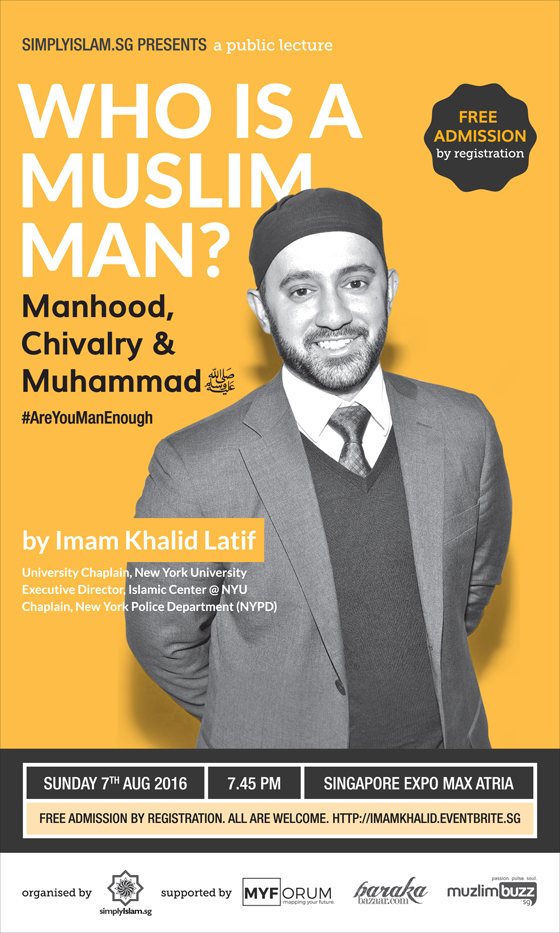 Join us for a riveting lecture with Imam Khalid Latif from New York this 7th August! Organised in collaboration with Darul Arqam Singapore.
Topic: WHO IS A MUSLIM MAN? MANHOOD, CHIVALRY & MUHAMMAD ﷺ
Date/Time: Sunday 7 August 2016, 7.45 pm
Singapore Expo Max Atria
Speaker : Imam Khalid Latif
Tickets: $10 only!
Imam Khalid Latif is the University Chaplain for New York University, Executive Director of the Islamic Center at NYU, and a Chaplain for the NYPD. Under his leadership, the Islamic Center at NYU became the first ever established Muslim student center at an institution of higher education in the United States. Imam Latif's exceptional dedication and ability to cross interfaith and cultural lines on a daily basis brought him recognition throughout the city, so much so that in 2007 Mayor Michael Bloomberg nominated Imam Latif to become the youngest chaplain in history of the New York City Police Department at the age of 24.
Imam Latif has not only managed to solidify the basis of a strong Muslim community at NYU that seeks to emphasize inclusiveness and understanding of others without compromise, but has also worked tirelessly to foster dialogue with people of other faiths in order to clarify misconceptions and encourage mutual education. His work has brought him to share stages with the likes of Pope Francis and the Dalai Lama, and many grassroots movements and diverse communities throughout the world. Through his work Imam Latif has demonstrated not only an exceptional dedication to gaining and disseminating religious knowledge and values, but has begun to carve out a much-needed space for young American Muslims to celebrate their unique identity and have their voices heard in the larger public sphere. [Click here for full bio]
Synopsis: What does it take to be a Muslim man?
Muslim masculinity was defined by one's ability to provide for, protect and guide the family. Today, many Muslim women work to share the burden of the household, domestic abuse cases are increasingly being reported, and more Muslim women are better educated than men. In this landscape, where does the Muslim man stand?
As Muslim-majority countries are increasingly beset with political violence, manhood in flux leaves a space for extremists who advocate violence to step in and manipulate men's confusion about what it means to be a man and provide them with a simplistic definition. Manhood is now about doing whatever it takes to protect "us" versus "them." Groups like ISIS and Boko Haram reduce manhood to dominance and control, and Islam is used as a veneer by such groups to legitimize violence and sex slavery. Even in the domestic spheres, some Muslim men resort to physical abuse to reassert their control and religious authority.
In an authentic narration, Prophet Muhammad ﷺonce said,
"The best of you are those who are best to their family. And I am the best to my family."
In this public lecture, Imam Khalid Latif tackles an issue close to his heart. How can we reimagine and reclaim the manhood and chivalry of Prophet Muhammad in today's context? What does it take to be a man like the man the Prophet was? How can we guide our young to emulate the Prophetic model of manhood and chivalry?
As the speaker Imam Khalid Latif once said,
"Anyone can at the end of the day get a girl to go out with them. Anyone can be popular and athletic. Anyone can tell crude jokes or be tough and make fun of those who are weaker than them. Not everyone steps up to responsibility, though, when the time comes. Not everyone takes on challenges instead of running away from them. Not everyone knows how to honor the rights of those around them. Not everyone knows how to admit they make mistakes and then do right by them. Not everyone knows how to have confidence in themselves and what they have to offer to the world. But at the end of the day anyone can be a boy, not everyone knows how to be a man."