Description
Have you watch/read, The Secret?
The key takeaway for most people from The Secret is the Law of Attraction ('LOA'). Basically, the LOA says, you can think and get what you want. If that's the case, Why am I not a millionaire yet?
The Secret is in an Underlying Law.
Do you know that when you know this underlying Universe Law your whole life could change dramatically? Once you are aware of it, you can make permeant changes to your life. You are almost guaranteed to achieve the results you always desire.
RSVP for a 2-hour packed workshop to learn
1) What is the Underlying Law that makes people successful & why not Me?
2) What is #1 thing that is keeping me away from my goals & desires?
3) The 3-Income Earning Strategies to Earn More Money & Create the Lifestyle That I Truly Desire
PS: This Is NOT A Motivational Speaking Event.
This IS A Teaching Workshop Where You Will Find Out Why Your Paradigm Dictate your Results.
PPS: Includes workbook to use during the workshop & for you to bring home.
AGENDA
7:15 PM - 7:30 PM : Registration
7:30 PM - 9:00 PM : Cover the above learning points
9:00 PM - 9:15 PM : Lucky Draw, Q&A
Feedback from the attendees.
Read more here on our Facebook page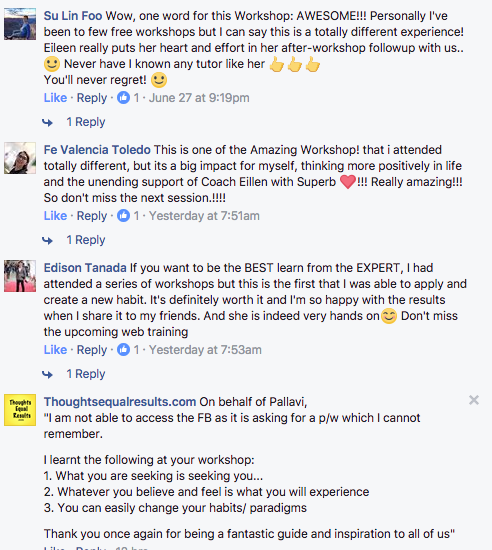 About the speaker
Eileen is the first Proctor Gallagher consultant in Singapore to be mentored by both; Bob Proctor and Sandy Gallagher to help individuals to finally get unstuck and achieve true forward momentum.
In 2015, while Eileen was working for a multinational company she enrolled for Bob Proctor Coaching 13-Months Program. Shortly after Eileen met Bob Proctor in person in Los Angeles, she decided to be a certified PGI consultant. As it allows her to work with individuals to set them up for instant and lasting success through a step-by-step program; 'Thinking into Results'.
Privacy Policy:
I confirm that by providing my personal data and contact details as above, I have agreed to receive messages (in sound, text, visual and other forms) including via the above Singapore telephone number in accordance with the Personal Data Protection Act.