Join the green movement by taking part in the Taste, Chic and Play Green workshops. Keep a lookout for The Green Store @ eCapitaMall as well
About this Event
Soil has been termed as our life support system, soil provides anchorage for roots, it holds water and nutrients to grow our food, and it is an ecosystem for microorganisms and microscopic animals.
Join us on this 30-min this talk as our experienced compost maker Gauri as she talks about the importance of soil and how it impacts everything from your gut health to the climate.
About the speaker:
Gauri is an avid home and community composter. She has worked in the space of municipal waste since 2014 in India and in Singapore. She has conducted several workshops and established some community composting practices in Singapore. You can find out more about her on her instagram page called @ecosamisg
This event requires a min. of 3 pax to be conducted.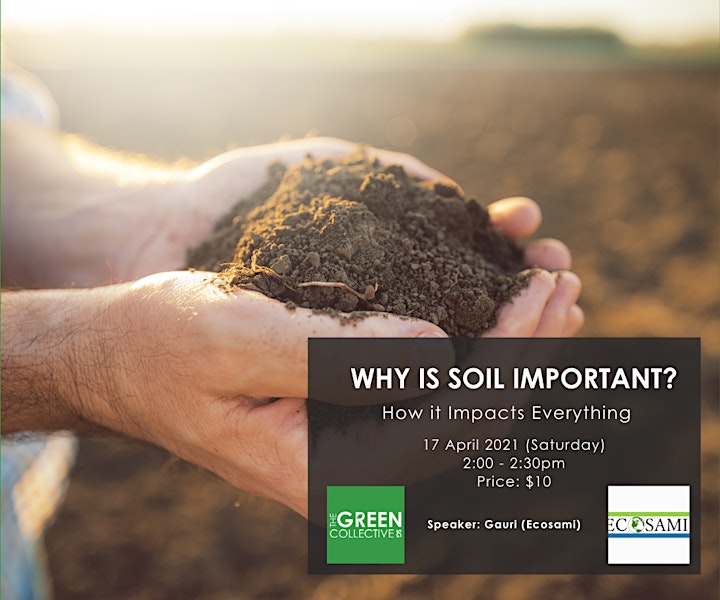 Compost Demonstration and Games
FREE TO ATTEND at The Green Collective, Funan
3rd April 2021, 2pm - 6pm
17th April 2021, 2pm - 6pm
"Are you curious about what a composting set-up looks and smells like? Do you know what compost looks and smells like?
Drop by our Compost Demonstration at The Green Collective SG these two weekends as we show you various home composting set-ups and do demonstrations of aerobic and bokashi composting. Bring your little ones along as we have games for them to learn about composting through play!"
TERMS AND CONDITIONS
1. All attendees require a ticket regardless of age.
2. All workshop tickets are non-refundable.
3. Any exchange of workshop dates or participant names will be considered on case-by-case basis. Participants should inform us of any proposed changes at learn@ediblegardencity.com at least 3 days before the actual day of the workshop.
4. In the case of no-show, late attendance or early departure, no refund, replacement, make-up or exchange will be made.
5. Terms and conditions are subject to change without notice at any time and at the sole discretion of the organiser.
6. Please ensure that all information provided is accurate. Should any of the provided information be untrue, inaccurate, not current or incomplete, the organiser will not be held responsible or liable for incomplete/failed delivery of the service/product.
7. This event might be cancelled if the minimum pax requirement is not reached. In that event, you will be notified one day before the stipulated event date via email. If cancellation is initiated by organiser, you will be refunded in full.